Dear Network, once again it is the time to share and prepare you a little bit for who you are going to see at the Autumn Agora in Budapest. We have here with us the president of AEGEE-Cluj-Napoca & former CD Assistant, Ioana Duca, who will be answering a few questions about herself, her candidature for SUCT and future plans.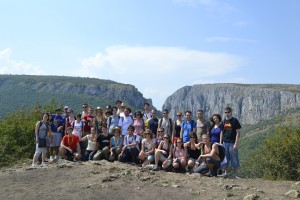 1) So, Ioana, you are no stranger to AEGEE, locally or Europeanly speaking, tell us a little bit about being president and some challenges you faced during the Summer Universities you organised.
Being president can be more difficult than some of you are thinking. For me it is a pleasure to work with my team and it is not something new. In the previous board I was the Secretary and I worked a lot with our HR responsible, treasurer, PR responsible, let's say that I was doing a bit of everything and for a president it is really important to know how to deal with all these things. It is a pleasure to share my knowledge with my team and to help the new ones learn more and grow at the same time.
Organising a Summer University is a challenge all the time. Even if you prepare everything in advance, before and during the Summer University, you will still have to change a lot of things. It is a continuous work, using plan B, C and sometimes even D. It is good that the alphabet has so many letters! This summer was the craziest one for me: organising 3 SU's ( "Cross the ECOpath in Central Europe", "AEGEEans, Y U No Feel Transylvania" & "The Wild, Wild. ..East!") and helping the 4th one ("Romanian Traddictions"), it was a real challenge for me but a real pleasure at the same time. I like to organise, sleep less, spend time finding cheap solutions, take decisions on how to share money or how to save more, be faced with different problems, I like to be very active.
But the biggest challenge  this year was a visa related one. In the first TSU organised by my local, AEGEE-Piliscsaba and AEGEE-Gliwice ("Cross the ECOpath in Central Europe), we had a problem with a Ucranian participant and he couldn't join us in Hungary. He was forced, at the border with Hungary, to go back to Romania and come directly to Poland. Unfortunately, we keep having this kind of problems.
2) Speaking of Summer Universities, just after it ended, the one organised by AEGEE-Cluj-Napoca-Piliscsaba-Gliwice, made it as The AEGEEan's SU story of the week. What was it like to find out that your SU was the one voted for?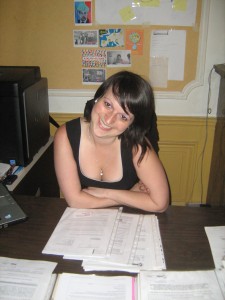 It was a nice surprise for me to see that our SU was voted as the SU story for one week, but at the same time, it was a confirmation that all the work and all the problems and challenges were not in vain. For me, organising an SU is not a burden, but with any type of event, when you have a lot of problems, you start thinking harder about all your decisions. In the end, we had an amazing  SU – visiting 3 countries, having an extraordinary group of 22 participants and great organisers and helpers -, and it was even better when I saw that by being the SU story of the week, others learned about this, too.
3) Being President is no easy ride, so what made you apply for the position of CD Assistant?
I decided to apply for CD Assistant because I needed a new challenge and I wanted to get more involved. It truly was a challenge to work at the same time in Brussels, as assistant, and in Cluj-Napoca, as President of my new board and as part of several teams of SU organisers. It is good that we have internet, Skype, Facebook and e-mails! All these helped me a lot, because I was living in Brussels, working with the AEGEE archives, but spending a lot of time on the internet as well, in order to do research, have meetings, and basically work for my local and its SUs. Both the previous and the new board of AEGEE-Cluj-Napoca supported me, as my stay in Brussels happened soon after the elections and during the transfer of knowledge period.
4) Was your experience as a CD Assistant that which determined you to run for SUCT?
I was thinking about it before as well, but this experience helped me make the final decision. Being the Assistant of the CD, I had the chance to learn more and so I wanted to get more involved. I also met some new friends, who supported me in the decision to run for SUCT.
5) How does it feel to know that you are running against two other people for the position of Project Director?
It is good to see so many motivated candidates, all wanting to work hard. I know that all of them are really good, with a lot of experience, and one of them is also an old friend of mine (a participant of the first SU I've ever organised). I'm sure that we'll have a perfect and hard working SUCT team.
6) I won't ask you if you think you are more qualified, but I will ask you: what if you don't get elected as Project Director? What will you do then?
It is hard to say who is more qualified or who will be elected as Project Manager, but I'm sure that no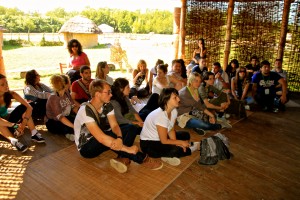 matter the results, the team will do everything to implement all new ideas and strive to make the best out of their time as SUCT and out of all the upcoming SUs.
7) About the future, regardless of the outcome of the election, are you planning to run again for President of AEGEE-Cluj-Napoca?
Being President has given me the chance to help the others learn more about AEGEE and grow enough as to be themselves future candidates for the position of President. It is very important for a local to have fresh and motivated leaders, so that's why I'll let others be next year's candidates. But because I'm an AEGEE addict, I'll always continue to help my local, as well as other locals.
The AEGEEan wishes you a lot of luck, Ioana, and we'll see you in Budapest!
Written by Andra Toma, AEGEE-Bucureşti