Dear Network, if you do not know his name yet than you have already missed out many extraordinary things that the member of this month has done during his membership in AEGEE.
I will give you some tips: he is the Speaker of the International Politics Working Group (IPWG), former coordinator of the Conflict Resolution pillar of the Eastern Partnership project (EaP), in his AEGEE CV we can find such projects as EU Awareness Action Day, Model European Union, YOUTH UnEmployment Action Day, Rio+20+Yerevan, Summer University "Discover Undiscoverd", Youth in Action Training Course "Peacebuilding in Europe" and if all that hasn't give you the answer, well, it's quite simple – meet Armenak Minasyants, the President of AEGEE-Yerevan.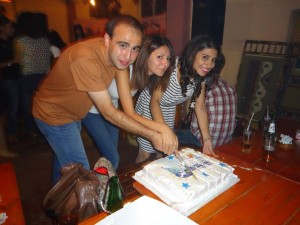 The AEGEEan: First of all congratulations with your new title! Did you expect the nomination?
Armenak: Thanks a lot ! No, absolutely and it has come really a very pleasant and big surprise for me. You know, lots of people used to tell me that I have deserved this nomination for a long time and should not be surprised with it, but anyway, for me it was really some kind of a high pleasure to find out that my recent activities have been so visible that I have managed to snatch a nomination. It also shows that the things I am doing are important for our Network.

Has your attitude changed towards AEGEE after becoming more involved at the European level?
Yes, with no doubt ! The work at the European level of AEGEE has already given me so many things, starting from a big army of friends all over Europe and finishing up with absolutely exclusive professional skills of online distant work. Yes one may argue that having sometimes long-long Skype meetings in the evenings is not the best option of spending your time, but while working at the European level you may really make a good perception what AEGEE is and of course what potential does it have, cause the European level "life" is absolutely different than the local level. Here you shall put much more efforts and commitment to everything you are making. I may just say, that in case an AEGEE member really wants to be real AEGEE member he/she should try this type of involvement.
How do you cope with being president and all the other tasks? In other words, many people complain that with AEGEE they have no real life, can you relate to that?
I may even say more: with AEGEE the life is becoming even more real! I have a well paid permanent job in state sector, where I used to work and cooperate with others in absolutely other atmosphere than AEGEE, but I have never thought that AEGEE may harm my non-AEGEE activities or I may get overloaded with it. Each of us decides on his/her own whether to get involved in AEGEE and if you are answer is "yes", you shall put your hard work and dedication to it, take the best from it and never complain, always holding your head high.
What is it like being the Speaker of IPWG and has this changed your perspective on how you see Europe?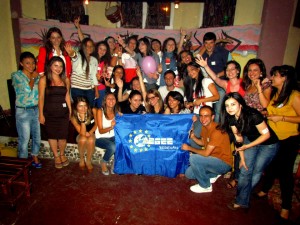 International Politics WG is something very special for me. It has totally changed and reshaped not only my views of Europe, but it has given me extra big boost for personal and professional self-development. The Speaker's position is very responsible one, and especially when you are dealing with international politics, cause it is not a secret that politics are very controversial thing. You shall follow each your word and phrase, you shall be able to take a responsibility to make some difficult and complicated decisions. I shall state that I was extremely lucky to have a possibility to hold this position, as I have worked with two perfect and cool boards, in which everyone was an expert of his/her sphere and we have really managed during last 2 years to bring absolutely new spirit, glory and breath to IPWG, which now is one of the strongest and thematic working groups of AEGEE.
Using this opportunity I would like to make the official statement: my dream fairy tale in IPWG has come to the end – as now there is elections period in WGs, I would like to state that I am not going to apply for the next term as the Speaker of IPWG. It was one of the hardest decisions in my life and I have spent a sleepless night in Gijon, Spain, thinking over it, but my decision is final. I would like to thank everybody with whom I had a chance to work during last two years. Thanks to each member of IPWG who has believed in me and my skills and has supported me and the whole WG in the most difficult situations. I would like to wish the new upcoming board even more success.
EaP, an amazing project, where is it heading next?
I have been a member of the Eastern Partnership project since the first day of its activities. The project has incredible strong and experienced staff plus also some new and maybe not so much experienced, but very motivated members. The issues which the project is tackling are really very urgent for the EU's Eastern Partnership program Members States, as such issues as bigger involvement in Erasmus Mundus, conflict resolution and visa facilitation are really urgent for the youth of those six states. From the beginning of this year I am not as much active in the project as I used to be previously, but with no doubt this project has the biggest potential now. The last Youth in Action training course on conflict resolution in EaP countries, which I have co-organised with AEGEE-Oviedo within the frames of the EaP activites, clearly showed that this Project Team is capable for some big things. Of course I believe that this project shall try to be more dynamic and make some kind of "easy" projects all over the Network which will be a great boost for further development.
Tell us some of AEGEE-Yerevan's latest achievements and a sneak preview on something that you are planning.
(Laughing) Really, they are so many that it is too hard for me to mention all of them. Anyway, this year we have already managed to organise six big local projects in which have participated more than 700 participants from all over Armenia. We always look for the projects which are important for Armenian youth. The fields might be very different, starting from the very deep discussions with experts on the EU enlargement and integration, and finishing up with non-formal workshops on youth unemployment and sustainable development. This year we also managed to make an extra cool Summer University with 20 participants (last year we had just 12) but the most important we managed to finalize our internal team building. As the most recent achievement I may mention participation of six our members in YiA Project organised by AEGEE-Oviedo, where we were presented with two trainers. All in all the most important achievement for me is the very unique team spirit, as in AEGEE-Yerevan we are working and living as a real family! We have about 90 members and most of them know each other and make good friendship even out of AEGEE. As in all families sometimes we have discussions, disputes, but in the end usually everybody is happy and pleased with everything. As a short preview for upcoming projects, in October we will have two big exchanges directly coming one after the other. Firstly, on October 5-12 we would host about 30 members of les Anciens who will come to participate in the special Autumn University which we are organising for them. And right after this project, on October 13-20 we would host 15 members from AEGEE-Athina within the frames of joint YiA project which will be dedicated to cultural diversity and sport activities. And the last, but not the least, on November 10 we are making the biggest simulation conference in the South Caucasus  "Armenia Model EU 2012" which will gather together 130 participants from all over the world. The project is supported by the EU Delegation to Armenia and I kindly invite AEGEE members to come to Yerevan and participate in this project.
Of course, if after all this we would survive and stay alive, we would think about more actions in the end of the year!
How is it going your typical day?
Well, wake up at 07:00 AM, morning run about 5 miles, fast coffee or tea at home with sandwich, walk to my workplace for 20 minutes, fast checking of Facebook, Mail, Twitter and etc. before starting the real work at office and then starts the most important – work till lunchtime and after it again work! In the evening I am usually meeting my AEGEE-Yerevan colleagues and friends and after it getting home at 22:00 PM. After this I am starting to work for AEGEE till the time when somebody of my family finds me sleeping near the laptop, usually it is about 03:00-04:00 AM.
Maybe it is too hard from the first sight, but I am living with this regime already for two years and it is absolutely fine for me.
Future plans regarding your AEGEEan life and outside it?
Well, my plans inside AEGEE are very enthusiastic as always. For now I may just say that I have decided to commit the next year mostly to the work at the European level of AEGEE as I am really proud to say that now at the local level we already have developed super cool members who will surely drive AEGEE-Yerevan in the right direction. Anyway, I never exclude anything in my life and who knows what may happen in the end of my term. As for future plans at the local level I am really very enthusiastic on bringing some new quality projects to AEGEE-Yerevan. At the European level, as I have already mentioned above I am resigning from my position of the Speaker of IPWG. My this decision is based on a very important update about which you will hear very soon.
But my most important future plan in AEGEE is of course to bring one of the statutory events to Yerevan and I am very optimistic to make my best for making this idea real!
In my life outside AEGEE I hope that I would have some more free time to dedicate it to my private life, particularly to my family firstly and of course to the girl whom I love. Also I hope to make some kind of non-European travelling tour, maybe to Qatar or Saudi Arabia, but this are just dreams now.
Imagine someone comes up to you and has no idea what our organisation is all about. How would you explain it to them and get them to join?
In AEGEE-Yerevan, we have one great Board member Ani, whom we call "Local", as she is the Head of our Antenna Local Activities Committee. When we were just making our steps back in 2010 and we were about 10 members she always used to approach unknown youngsters in the streets with a great smile and ask them in this way "Would you like to join AEGEE?". And this mechanism really works out and we got plenty of new members! So, I would just make a good American smile and will use the mentioned phrase, even without trying to explain what is AEGEE.
Last question, if AEGEE was a paid job would you still do it? Or is it more fun because we are volunteering?
My answer would be clear: yes! I really will to work for AEGEE no matter of the conditions of my work. I have a life motto "Money never sleep" and if it is possible to get some extra finances, why not to get it? Anyway, now I am really pleased that AEGEE is not paid job and we have lots of romantic things in our everyday activities. Usual hunt for some free events, cheap air flights and free hosting: I really could not imagine my AEGEE life without these !
Written by Andra Toma,  AEGEE-Bucuresti
Attention: If you think you know someone, who deserves to be honored as "Member of the Month", send an email with the person's name and the reason for nominating him or her to aegeean@aegee.org.