Let's illustrate an image together, shall we? Let's imagine people getting together to develop themselves. Self-realization through different exercises, and getting to know yourself in the present: who you are, your environment, and how it influences you. Then, realizing your past through different techniques, and learning to cherish the good times and letting go of the bad. Finally, looking into the future and realizing what you want from it, what your goals are, and where you're heading towards.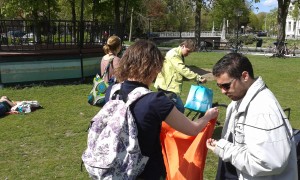 What was the background you chose for this? A deep spiritual Asian temple, which included techniques such as meditation, cross-legged in a harmonious natural environment? Yes, that could be the case, but not in this situation! The background of the image is quite realistic taking place in the beautiful Dutch city, Utrecht. It was very European, and very realistic, organized by members of AEGEE-Utrecht, trainers from the AEGEE-Academy coming from five different corners of Europe, and 15 participants coming from all different corners of Europe. They all gathered with one common aim: self-development.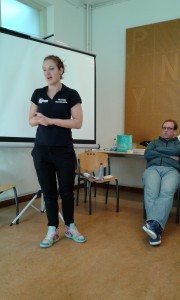 The AEGEE-Academy took itself to a whole different level, introducing a new type of training which they named Self-Development European School (SES) and was organized between the th 4 and the 11 to use during the SES, creating a basis for a future of this type of European School. th of May. Trainers put their minds together to figure out the right techniques.
Through self-realization exercises, and self confidence boosters, everyone involved in the event got to know each other even better! Of course, let's not forget the incredible social program the organizers prepared, including a Dutch evening hosted by a queen of queens, a festival, and also a ball! Also, the participants set their goals and thought of the things they personally wanted to reach and manage to do with themselves, with short-term and longterm goals. Finally, the participants received an empowerment boost, to last them after the event, and to manage to not forget what they learnt from that week in Utrecht.
When participants were asked to summarize the event into one word, some expressed themselves using "life-changing" and "deep"! Clearly, this feedback mustn't go to waste. And even though this was a pilot, there were difficulties to overcome. But even the overheated training room, or the slightly bad hostel food couldn't hold us back from having a great time during the SES week! That's why the Academy has decided to repeat the SES in 2014. Congratulations to the organizers, well done to the trainers, and great job to all the participants for all their hard work! This was surely one of the best events of the year!
Written by John Eikosidekas, AEGEE-Patra
Photos courtesy of Bence Ujlaki AEGEE-Budapest