Do you know that 45% of our life one is dreaming? We dream about the future, about the perfect job and an amazing vacation. Most of us do. But the AEGEEan is lucky to introduce: Mathieu Soete  – ex-board member of AEGEE-Leuven, currently Speaker of European Working Group of Enschede,  who not only dreams about the sustainability and improvement of the environment but does a lot every day to achieve it. 
The AEGEEan: Fisrt of all, please introduce yourself to the AEGEEan readers!
Mathieu: Some may know me as the green guy in a suit, asking questions on an Agora stage, but I'm mostly working behind the thematic scenes of AEGEE, giving trainings on environmental topics or pushing AEGEE into a more sustainable direction. Or outside the association, representing AEGEE at environmental events in Brussels or elsewhere.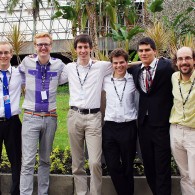 That's what a lot of people say about you! Were you always so dedicated to sustainable and environmental work and was it the reason why sustainability also appeared during Europe on Track?
Actually it is AEGEE that got me on this track. My very first event – in fact, the very reason I joined AEGEE – was the case study trip to South Africa with Beyond Europe, our flagship project back in 2010. For two weeks we discussed with Europeans, Africans and Indians about the United Nations Millenium Development Goals (MDGs), and their implementation in Southern Africa. Through some other events and trainings I went from international development to envinromental issues and sustainability, and even ended up in Rio de Janeiro last year, representing AEGEE in negotiations of the UN Conference on Sustainable Development (Rio+20). I would like to think my work on sustainablility within AEGEE is what inspired the Comite Directeur (CD) to choose this as one of the topics for Europe on Track, but the truth is Luis Alvarado Martinez and of course Miguel Gallardo Albajar from the CD are very much concerned that topic as well.
Such a great example when AEGEE changes your attitude towards something important and you dedicate your time and efforts to succed in this field! I also know that you work for 350.org and even organized your first screening for them, right?

Well I don't exactly work at 350.org, but I have promoted their activities in the past, also within AEGEE — probably some will remember the huge climate dot picture we took at Agora Enschede. 350.org is a grass-roots campaign on climate change that started in the US some 5 years ago. Their goal is to solve the climate crisis by organising people everywhere around the globe, using online tools to facilitate offline action. Next to taking part in some of these actions, I'm also doing some translation from time to time and as you said, we organised an online screening with Environmental Working Group (EnWG) of their Do the Math documentary, which deals with the numbers of climate change and the way people are taking action.
That is so impressive! And you work for Greenpeace Belgium at the moment, right?
That I do! I started working with them some weeks ago as Ambassador, going round cities and towns in the country, talking to people about the campaigns and actions of Greenpeace in Belgium and around the world, trying to convince them to join Greenpeace. Because Greenpeace is one of those truly independent organisations, accepting money from neither states nor companies, so we only rely on our members to continue our work.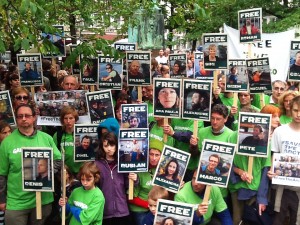 There are some pictures where you support the Arctic30. What do you think of this terrible situation and how in your opinion it will be solved?
In the words of Russian president Vladimir Putin: "I've always admired people who devote their lives to environmental problems." These 30 people — 28 Greenpeace crew and activists, and 2 freelancers — have done nothing but peacefully protest against what is likely to become a big environmental disaster: drilling for oil in the Arctic. Clearly these are not pirates as the Russian authorities are now trying to prove, which we will hopefully see in the coming weeks. Only time will tell how this will be solved, but with over 1 million supporters they are not alone in this. Also AEGEE has added its voice to the call for their immediate release, you can read more about this in the opinion I wrote two weeks ago.
We all hope for the best! And talking about you what is really amazing is that you are also a part in CIA Reform Team at the same time, can you tell about this experience as well?
The aim of this team was to restructure the CIA, after years of editing and adding to it. Don't get me wrong, having a dynamic set of rules is a basic requirement of a democratic association. But if you let subsequent generations of members edit a document without control, you end up with something which can be hard to understand. That's why we set out to bring back some internal coherence into the CIA, and to create a strict yet logical separation between the Statutes and the rest of the rules. The work is not done yet, but the Agora in Zaragoza will already see the first results… and perhaps some more people will be inspired to help out.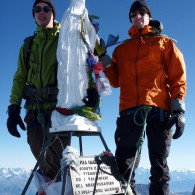 Now when the readers  have gotten a possibility to know you better, I can reveal that you were voted as a Member of a Month! What are you feelings about that and plans for the future in AEGEE?
It is great to see that, even though sustainability is quite a new topic within AEGEE, my work on it is being appreciated. Especially since much of it takes place behind the scenes or even outside of our own events. Until Agora Zaragoza I will still be AEGEE's Policy Officer on Sustainability, after that I don't know yet. I was recently elected as Speaker of AEGEE-Enschede's European Working Group and there's the new Strategic Plan where sustainability will hopefully figure more prominently, so I guess you're not rid of me just yet!
We are happy to know that! What are your hobbies apart from AEGEE and work? Cycling as far as I know?
Well, working at the European level of AEGEE means quite a lot of sitting behind your computer. So when I have the time I try to be outside as much as possible, which is where most of my work with Greenpeace takes place as well. Next to this I took up rock climbing and mountaineering last year and Wieke recently introduced me to long-distance cycling. This summer we spent 4 weeks crossing the UK from the south of England to the north of Scotland, and I can tell you: cycling is the best way to appreciate a country. Slow enough to still enjoy the local life, but fast enough to cover big distances. And you learn that outside of Belgium and the Netherlands, "flat" does not exist!
Good ending! And the last question – what is your motto in life?
Reaching the summit is just one thing, it's the coming back down that matters!
Thank you it was really nice to talk to you! Lot's of luck and see you on ZarAgora!
Written by Annie Pykhtina (Smailikova), AEGEE-Kyїv