With a pack of printed out article of the AEGEEan, a nervous look and tired eyes after cycling on the hills of Kyiv, I got to meet a candidate for the Summer University Coordination Team (SUCT) – Anna Pyhktina from AEGEE-Kyiv. Most may know her as Smailikova, but do not be fooled. Her read last name is Pykhtina.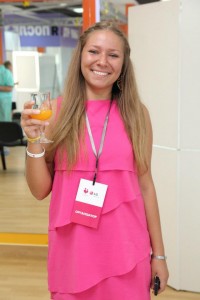 AEGEEan: We heard you are applying for SUCT at the upcoming AGORA. Why don't we start with you telling us a bit about yourself?
Anna: Shortly, I'm 21. I have just finished my bachelors degree in Public Relations and Advertising. Because of an unacceptable gap year I decided to dedicate the year to self-improvement and AEGEE. Next year is still a mystery to me and I don't want to know about it. I'm taking it one month at a time. I'm also biking, snowboarding, painting, doing stupid things that I don't regret. I love my city and at the same time, I'm a crazy traveler. Now I'm looking for way to make my dreams come true.
How long have you been in AEGEE? What have you done so far?
I have been member of AEGEE-Kyiv from the 8th of March, 2010. As you know, it is national Woman's Day here in post-soviet countries. This was a great present for me. I became a bit active after my summer university in Salerno last year and my real AEGEE life started with the position of coordinator of the "Big Kyiv Theory" Summer University. After that I was involved in every single step there together with my best friend Maria, who was incoming respoinsible, Olia Yushenko, who was president at the time and Anna Kotovich, who was then secretary.
I have recently become PR responsible of the board of AEGEE-Kyiv and am also an AEGEE representative of the EduCoach program. There are also some plans for the AGORA, but I don't want to reveal all my secrets just yet.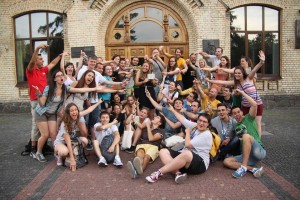 Tell me about SUCT. Why did you decide to apply?
I was thinking of ways to become active on the European level. So I read a lot about different working groups and since I was involved on an SU for half a year, I decided this could be a great way to improve other SUs and help them. I understood that organizing and creating something is my passion. For me, this is the place where I can help someone doing what I love.
You've just talked about your PR position in the board. You have also recently been accepted as a journalist for the AEGEEan. Welcome! Apart from that, you've just talked about EduCoach and I also know you work! How are you planning to juggle all of that?
I don't know. Maybe I won't sleep. I love coffee, I love to drink it. Maybe it will work. That is not all. I also work part time teaching Russian to foreign students. DLA Piper is a law firm I recently working at.  It is somewhat difficult because I work with lawyers and do not always get their jokes. Nevertheless, it's great to have something new in your life. For me, every new place is a place I can learn something in this life.
As for my position in the AEGEEan, I feel like I have something to say. I like to write and make catchy headings. I want to improve this skill in order to apply for a master's degree abroad. It's all about the future.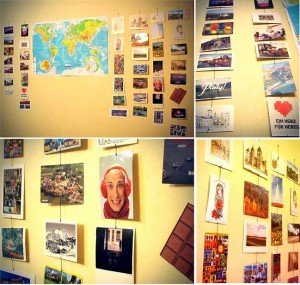 What inspires you as a person?
Things that inspire me are all around me. My friends know that I'm crazy in love with my city – Kyiv. I've also ended up in crazy situations because of my love for music. With me singing when I think that nobody is there and then the elevator door opens and… yeah… really strange. This even happened in my new job at the law firm… awkward, awkward… I adore cycling in Kyiv even though it's a bit difficult because this is a city on seven hills. Of course I love my friends and family. I always do a lot of hand-made things. If you could see my room, you'd see I have a lot of flags there, postcards, a map of the world, some photos, some paintings, a bit messy, but it's a crazy mess that inspires me.
Do you have a moto that you try to follow in life?
Perhaps my moto is – "it's all in our hands and it all depends on us". There is another moto that I should listen to but don't. It is – never put off for tomorrow what you can do today. But I'm really great at that.
And now some questions from our readers.
Are you sure you can handle travelling through lots of SUs for checking all the activities as you are from non-EU country and have to have visa to travel?
I planning to get married soon. But seriously, I think that nowadays, you don't have to be present at every meeting thanks to the technology. With skype and everything, you know how it works. If I do need to travel around the EU, I think that with my past visas I'll be able to get a visa. The funny thing is that I do have so much experience with dealing with embassies, German, Italian, Spanish and others, that I can write a book about it. I think that as an official member of the future SUCT team with my great desire to see how other SUs are working, I think embassies will be glad to give me visas.
Will you keep your position as subcommissioner of Network Commission, if you are elected?
Yes, I will keep this position. Vira Kakhnych (our NetCom) has created a useful system and a clear working process. Besides, there are four of us in the team.
I did not really get the part about punishing people in your application. Who do you want to punish exactly? Why and how?
I am talking about the kind of participants who lie in their motivation letter about their experience and desire to take an active part in the SU's life. After arrival they can just disappear. Maybe it happens because they were not prepared by their local or have other aims. This happened to my team this summer. It was sad that this person was not really staying with the organizers and participants the whole time. As we select people by motivation letter, no one knows them ahead of time. Why not talk about some kind of punishment for people like our mysterious guy? Organizers work hard for six months to provide the best program for active participants, not for the ones who plan to leave the first day. This is of course an exception, but we need some rules about how to act when something like this happens.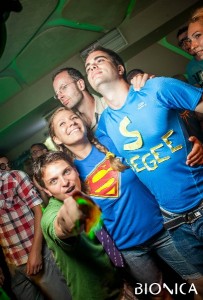 Anything you would like to tell our readers?
Dare to do what you never dream of. My life is usually a challenge. I've experienced many things that I'd like to not experience again, but they have made me stronger and I am thankful for them. You'll never be as young as you are now, so this period from 20-30 is a great time to tackle your negative sides in order to not get stuck with them for the rest of your life.
Sounds good. Thank you for the interview and good luck at the AGORA. Hope you won't get too many tough questions.
Written by Olga Volovyk, AEGEE-Kyiv