17 participants, 6 trainers, 6 main organizers, 9 days, many guests and helpers. From  the 17th till the 25th of May 2014, the AEGEE-Academy,  together with AEGEE-Enschede had organized one of the most important  trainings in our association – "European School 1" aka ES1.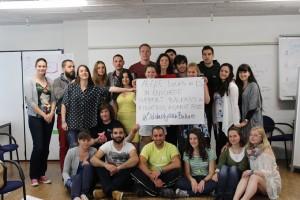 Two years after the Agora in Enschede, AEGEE was back to the University of Twente,  where  participants gained new skills and  knowledge, getting ready to become future leaders. Leadership, Project Management, Human Resources and Fundraising; those were just a few of the sessions that took place during the training. Along with the sessions, the participants were working on different Case Study tasks, that helped them to put the newly-aquired knowledge into practice right away. Moreover, thanks to the local organizers, a lovely social  programme  followed  each  hard working  day.
Among  the  guests  of  the  event were representatives from the AEGEE­-Academy  board, the  board of FATF (Foundation AEGEE Trust Fund ed.) and trainers from the Dutch National Youth Council. The event would not have been the same without Urša Svetelj (AEGEE-Ljubljana),  Training  Manager  of  the ES1  2014.  Urša  was  ensuring the smooth  process from the very first preparations on, being a bridge between the trainers and organizers involved in this ES.
It is somehow hard to describe European School 1 with just few words, but the feedback received from  the  participants  speaks  for itself.  Nevertheless,  this  event  would not  have  been  that  successful without their strong motivation, commitment and endless energy.
"You rocked! The best AEGEE event I've been to ­ from trainers', participants and organisational aspects. Good job!"
"Awesome! Inspiring! enriching! a great time! great people!"
"You guys are awesome and especially the organizers. Please pass my thanks because without them this event would not be as amazing as it was."
"I  am  extremely happy to having been here!! ES1 changed my life and it will define my future! Thank you very much for selecting me cause I really had to be here! And thank you for making this event so awesome and useful!!! Looking forward to meeting you all again somewhere in Europe! I really admire you for what you are doing! Keep up improving the world!!! ;) And good luck with everything!"
"A big hug to everyone! Thanks for this outstanding experience!"
"I am very thankful this happened to me. And I thank you for realizing it. I find everything I want to find in my life in AEGEE. Thank you for making this true.
"Organizers  and trainers, I must say a huuuuuuge thanks for the hard work. I learned a LOT and had awesome time while doing it :) Thank youuuuu all! :)"
"I will suggest my local Antenna members apply for ES."
"European School 1" is already over, but more AEGEE trainings will follow! Stay tuned and keep the AEGEE energy alive!
Written by Elena Antova, AEGEE-Academy