After having been a board member of AEGEE-Leiden, main organiser of two Network Meetings in a row and last but for sure not least Subcommissioner to Lia Tuska for the Dutch-speaking locals, Boudewijn Steenhof (AEGEE-Leiden) decided to take the step and run for NetCom himself. Read on to find out more about him, his motivation and plans!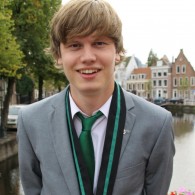 The AEGEEan: First of all, please introduce yourself! Who is Boudewijn Steenhof and how did you join AEGEE?
Boudewijn: I am a very proud "Haarlemmer", a city close to Amsterdam on the Dutch shores and a very beautiful place to grow up. I moved to Leiden for my English degree in 2011 and immediately became a member of AEGEE-Leiden. I was attracted to it by the travelling possibilities and the endless network of friends it offers you. I have not regretted joining for one second since then!
You were subcommissioner of Lia Tuska. How was this experience for you?
I have been interested in a position in the Network Commission ever since my friend and colleague in the board Dominique Lenssen (AEGEE-Leiden) had her term as NetCom. She would talk about how much fun it was and how much she learned from it. After being in doubt for a long time last term, I decided not to candidate because I felt I missed some experience to be able to be a valuable member of the team. When my friend forwarded me the open call Lia sent out for SubCom, I didn't hesitate one second and replied. Although the term has not been very busy, I have learnt a lot from it. But most of all, I have discovered that I have a true passion for AEGEE and its network. Being SubCom was like a first peek into the world of AEGEE-Europe, and I would love for that window to become bigger!
And how did you decide to take the step and run for NetCom?
Running for NetCom has been on my mind for probably a year now. Right after I returned from living in Australia half a year, a spot opened but I didn't apply. I was in doubt again for this position at this Agora. The step to candidate almost seemed too great… This all changed probably two weeks ago, when I came in contact with a few board members from locals in the area. Talking to them and listening to their stories about their locals made me realise I had a few ideas on how to improve and sustain the network and I would love to talk to them and discuss strategies with them for the future of their locals. This, together with a few of my friends telling me I would probably regret it if I didn't run, made me send in my candidature still, although the Agora was only a week away.
You would like to be in charge of the Dutch-speaking locals – which are, according to you, the strengths and weaknesses of this region?
The student culture in this area is very distinct from other areas in the network; a thing that all AEGEEans know ever so well. As a result, the locals generally are large and self-sustained. This is an obvious strength. I would also want to say that I have experienced that especially the boards of the area work together well and give each other tips and tricks to improve their strategies. This is something I want to build on during my term as well. I think, by the way, that this is also one of the biggest weaknesses of these locals: because of the distinct student culture, it is not always easy to feel one hundred percent connected with the European level. This is also something I want to keep an eye on.
Are you also planning to establish new locals?
I am certainly not afraid to explore the possibility. However, from experience I know this is a very time-consuming activity and needs to be carried out carefully and efficiently to be successful. There have been some people that were interested in helping doing this, but this process is in a very early stage and needs following-up!
You mention in your candidature the existence of a Fundraising Committee – what can you tell us about it?
In the Dutch-speaking area, we have an unofficial Fundraising Committee that functions on an 'inter-local' level. Three or four representatives of the locals work together to find funding, for instance through companies that can sponsor all the locals in exchange for advertisement space. This works better every year, but can still be improved. I would also like to explore the possibility of forming more of these committees for different things; this to encourage locals in my area to work together towards a common goal.
You organised two Network Meetings in two years in a row in Leiden. What do you like so much about this kind of events?
Network Meetings for me are the ideal way to be involved in the European Level in a very accessible way. I love the atmosphere and the reactions of the participants in the group. There is always a great mixture of local people and foreign people – if we're lucky from very, very far away – and the workshops are great. This, for me, was my first real encounter with what AEGEE can offer you and I love to give other people that opportunity as well. I am very eager to discuss with my prospective fellow NetCommies how we can improve the quality of these events but still make it enjoyable and fruitful for the targeted group.
AEGEE-Leiden is known for organising several European events, how did you promote this kind of events in your local? Do you plan to promote this strategy in your locals, if elected?
Yes! I am very happy with this question, because I am proud of the way AEGEE-Leiden has changed its focus more and more towards the European Level of AEGEE. I certainly want to employ this in my NetCom team as well. For me, I think there are a couple of very important key elements you need to succesfully promote a European event. Dedication is a very big part of it, of course; you need a few people that are willing to dedicate a lot of their time voluntarily to organise an event. Also, you need to create an atmosphere in which especially new first-year members, but also the older ones, know that European events are a matter of course. An example that I know from Leiden is for instance the change in a question from one first-year member to another: from "Are you going to help during the event?" to "When are you going to help?" I think this change is very important, because it reflects the way people view European events as something that is naturally part of their AEGEE lives. I want to encourage locals to try and establish this kind of vibe!
What do you think about the so-called "gap" between the local and European level, and how do you plan to face it?
This always remains a very difficult thing to deal with. I think it is important that locals are informed and partake in the European level, but do not lose their local identity and their place in the student culture of their respective cities at the same time. Especially in my preferred area this could mean a drastical drop in members, and no one wants that to happen. As said before, it is stated in my programme that I not only want to inform locals of the opportunities the European level presents them in the antenna criteria, but I also want to promote organising European events and sending members to events everywhere in the network.
Last but not least, are we going to meet you at the Agora in Cagliari this week?
Unfortunately not! Since I decided to candidate rather late in the process (read: one week before the Agora) and I have other obligations this weekend, I will not be able to present my candidature myself… If I knew I was going to candidate earlier, I would have made other arrangements, but alas! Luckily Svenja van der Tol (AEGEE-Nijmegen) offered to present for me, and I am very confident she will represent me in a good way!
Written by Anna Gumbau (AEGEE-Barcelona)