Have you ever noticed similarities between your country's and other countries' traditions for Christmas? There are many symbols attached to this holiday in Europe, and each country has kept its own identity and traditions, while enriching them with influences form various other sources. This diversity and richness prove the importance given by Europeans to the Christmas holiday. This year the AEGEEan asked and found out how people celebrate Christmas in Greece, Hungary, Moldova, Romania, Turkey and Ukraine.
Let's start from the place where the festive period begins really early. In Romania, celebrations start on November 30th, the day of Saint Andrew. Customs say everyone should hang plenty of garlic and a crucifix next to all doors and windows of the house to keep evil spirits away from their home. At the beginning of December, the Christmas lights are turned on all over the streets. Moş Nicolae comes and gives children presents. Children receive their gifts early in the morning of December 6th, or late at night on December 5th; traditionally, gifts are put in their laced up boots. On December 20th, Saint Ignatius Day, Romanians start the last preparations for Christmas. On this date, they slaughter pigs for the Christmas Eve supper. "Around this date, people usually buy their Christmas trees from public markets or supermarkets.", Ioana Nedelcu (AEGEE-Ploieşti) told us.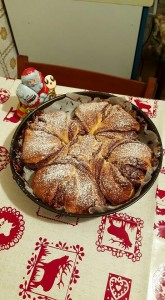 December 24rd it's Noaptea de ajun, the day children usually start caroling their neighbours. Music is an important part of Christmas celebration all over Romania. There is a special genre of music, related to Christmas carols but with more traditional/Christian lyrics. These are named colindă, which are also popular in Moldova. On the same date, women bake traditional cookies to give children for their caroling. By this time, the Christmas tree must usually already be decorated. During Christmas, Romanians bake or buy various special dishes, including desserts and sweets. Romanians most usually bake cozonac, a type of sweet bread. You can fill the cozonac with walnuts, cocoa, raisins, Turkish delight and in Transylvania: poppy seed paste (cozonac cu mac). Plates heaped with small pastries and cakes (corni și baclava) are prepared to serve to carollers when they call. A boiled vegetable and chicken salad held together with mayonnaise and decorated with olives and boiled eggs is often prepared. It is called Salată de boeuf (from French), although it usually does not contain beef. Other Christmas dishes include piftie, sarmale and pork dishes.
In Moldova, although Christmas is celebrated on December 25th like in Romania, January 7th is also recognised as an official holiday. On Christmas Day, families are having breakfast and/or lunch together.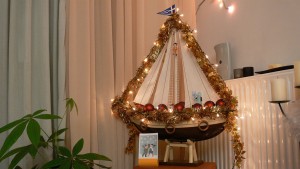 In Greece, Christmas caroling is also very popular and there are actually three official caroling days. The custom is that children go from house to house singing the carol, with the accompaniment of a triangle, and residents of the house give them a small amount of money. Greek Christmas carols (calanda) are sung on the mornings of Christmas Eve, New Year's Eve and January 5, the Eve of the Epiphany. About thirty to twenty years ago, carolers were getting cookies for singing the calanda.
Melomakarona and kourabiedes are the two varieties of Christmas and New Year's cookies in Greece. The first are semolina, cinnamon, and clove cookies drenched in honey, while the second are fresh butter cookies sprinkled with powdered sugar that are normally served on New Year's, but many succumb to temptation and begin consuming them earlier. Vasilopita is a cake that is eaten on New Year's Day. Before the cake is baked, a coin covered in foil is placed in it. The person who cuts the cake makes the sign of the cross three times above it and then starts serving the pieces, one to each person, the house, Christ, The Virgin Mary and Saint Vasileios. Whoever has the coin in his piece of cake will have luck for the rest of the year.
On the 1st of January, Saint Vasileios (Saint Basil the Great) from Caesarea, Cappadocia (Turkey), brings the gifts to the children. People in Greece also celebrate Epiphany on the 6th January. In the Greek Orthodox Church, Epiphany celebrates Jesus's baptism when he was a man. There are many events throughout the country where young men dive into really cold lakes, rivers and the sea to try to be the first to get a cross which has been blessed by a priest and thrown into the water. Whoever gets the cross first is meant to have good luck during the coming year.
"Noeliniz Ve Yeni Yiliniz Kutlu Olsun" this is how you say "Merry Christmas" in Turkish. However, how Christmas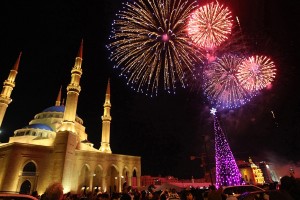 and the new year is perceived depends on where you are in Turkey. Christians who live in Turkey celebrate Christmas at churches or with family gatherings. In many districts of major cities the lights, Christmas decorations and trees appear in early December. In Turkey Christmas is of course not celebrated as a religious holiday. It can, in many ways, be comparable to Father's day, Mother's Day, Valentines Day and so on. Christmas is brought to Turkey by the major stores and supermarkets who have seen their chance to implement this festive celebration. There are some very natural differences to the way other Christian countries celebrate Christmas. In Turkey there is no dancing around the Christmas tree and sing Christmas carols, just like Christmas cookies and socks over the fireplace are not a part of the tradition yet. But they have Christmas trees and Santa Claus and gifts! In the last years in Turkey they started celebrating the New Year by exchanging gifts.
On the other hand, in Ukraine the festive period starts on New Years Eve. Ukrainians usually congregate in a house of their families and/or friends. They have many dishes at the table, so they start with food, watching different TV shows and chatting. When it is 00:00 the champagne is opened, and there are exclamations "Urrraaaa" (Hurrah) and people wishing everyone Happy New Year. "After midnight, children find their presents under the New Year tree, some other people are just exchanging presents, telling nice words to people. Then Ukrainians call other friends, who are not celebrating with them and congratulate everyone they think is important.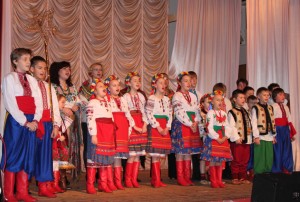 Very often the mobile network is overloaded. Then we have parties till the morning, and go to bed at 02:00-08:00 (it depends). In the morning celebration continues.", says Hanna Polishchuk (AEGEE-Kyiv).
On the 6th of January it is Sviat Vechir (Holy Evening). In the evening, after 6pm all family congregates at the table, which has 12 dishes (obligatory). The main dish is called Kutia (sweet grain pudding), and everyone should eat at least one spoon of this dish first. After dinner, children (and sometimes adults) wear traditional clothes and go around carol singing. People give them sweets and close friends give also money. The next day (January 7th) is Christmas. In the morning people tell each family member "The Christ was born", and they answer "Glory to Him". They tell this three times, and each time people kiss the cheek of the person, to whom they tell these words. On this day people continue going round carol-singing. There is a tradition to forgive everyone on this day.
In Hungary, Santa is called Mikulás and comes on the 6th of December instead of Christmas. He brings presents to children in their boots in case they have been behaving well all throughout the year. If they have been naughty, they get some rods (for being whipped with) from krampuses instead. "On Christmas night, the 24th of December (Szenteste = Holy Night) we decorate our Christmas tree indoors and "Little Jesus" (Jézuska) is supposed to bring nice presents for the kids untill the next morning, placing them under the tree.", Balázs Kovács (AEGEE-Debrecen) told us. The Christmas decoration involves szaloncukor, special Hungarian goodies.
Hoping you enjoyed reading this article, the AEGEEan would like to wish you Merry Christmas anywhere you are!
Written by Lia Tuska, AEGEE-Kastoria/Sofia