He has been active in his local for almost two years. After his first Summer University in 2015, he was elected as Public Relations Responsible in the local board, organising the Local Training Course and Summer University of 2016 as both main organiser and treasurer. But that's not all, he also coordinated local volunteering events such as Let's Do It Ioannina 2016 and the Student Associations 2016 for his antenna. Spyridon Papadatos from AEGEE-Ioannina may not have the European level experience, but he is very motivated and wants to devote himself entirely to the position as Network Commissioner of AEGEE. We talked with him a little about himself and more about his plans for this position. 
The AEGEEan: To begin with, tell us three words that best describe you and why.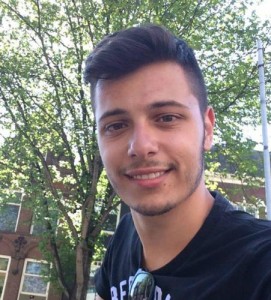 Spyridon: Firstly, passionate; whatever I decide to do in life, I make sure to feel passionate about it, because that's the only way to enjoy it. Then I would say active. I love filling my day with different things, especially with out of my comfort zone activities (of course I need some moments of relax too, but only if I've earned it through the day!). And last but not least, "travelholic". Travelling is one of the main things making life a little bit better. Meeting new places and people and generally gaining new experiences is priceless. And it is also the reason I got to know AEGEE; so only good things can come from it.
What would you say is your biggest flaw?
I would say that until recently it wasn't that easy for me working in a team. I used to swim for over a decade, so I had learned to depend entirely on myself. I wasn't used to being part of a team, so at first it was hard. But I'm slowly changing and improving as a team player; in fact AEGEE has helped me a lot in this field. I have learned that cooperating with other people can make your life easier and help you see perspectives that you probably wouldn't think of on your own. And interacting with them helps you to acknowledge yourself and grow as a person, so I'm really grateful for that.
How would you explain the position of Network Commissioner to a five year old?
I would compare the whole AEGEE structure with a two-story house: the first floor represents the various antennae and the second floor represents AEGEE-Europe, while the Network Commission works like the stairs that connect those floors. So the Network Commission, just like the stairs in a house, connects the international with the local level. In that way, the communication throughout the whole structure of AEGEE is ensured and the whole building functions in a better way.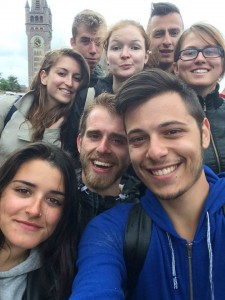 What do you think is the biggest and most concerning problem in the Network at the moment and how do you plan to solve it?
Let me keep up with the comparison I used above, because there is another important thing that comes of it: the first floor, aka the AEGEE locals are the base for the whole building. Without them, the rest of the house (the stairs, the second floor) couldn't and wouldn't exist. We need to remind this fact to ourselves. Because I think that we tend to forget the importance of the antennae and their members. We should try to encourage a more active presence of them in the decision-making process and the statutory events. That way the whole Network will become healthier and grow in a limit-crushing way.
In your application you said you want to support locals in fulfilling the Antenna Criteria and be consistent towards AEGEE-Europe. Can you please elaborate on how you want to do that exactly?
Let's face it: fulfilling the Criteria isn't the funniest part of AEGEE. It is a crucial part though for its sustainability and its development. It is just something that needs to be done and done on time. And that is the main role of supporting the locals. If they have a problem with this process, any difficulty at all, they have to know that the NetCom exists for helping them in situations like these. So I want to be there for the antennae that need my help and live up to the good name the NetCom has established all these years.
How do you plan exactly to strengthen the bonds between the locals and help them establish a cooperative spirit?
The fact that there is no regional level in AEGEE does not mean that locals that are geographically close cannot cooperate. Of course, there are some locals collaborating for a Summer University or another project, but why not cooperate throughout the whole year? For example, if there are Greek antennae facing the same problems, it is good to have a connection, a relationship with neighboring antennae and their board members and work on a solution together. I would like to see that happen and be a part of this connection-making process by encouraging the locals to take this initiative.
In your application you said you want to build a strong team of SubCommies with vision. What is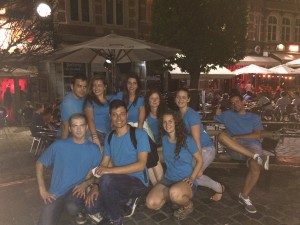 your vision as a possible Network Commissioner?
I see AEGEE as a unique place for students and young people to express their opinions and be more active on the European level. As an opportunity to get out of your comfort zone and gain new experiences. I would like to help AEGEE grow and strengthen its voice on the European level even more. And if I get elected as a Network Commissioner, I would love to contribute as much as I can to the even better realisation of this vision.
As an ending, tell us in just one sentence, why should people vote for you?
Because I am highly motivated and enthusiastic about this position and I want to commit myself 100% to it!
Questions from our readers:
Giving the fact that there are no fixed regions, which locals do you want to work with?
I would like to work with the Greek antennae of course, because I am aware of their strengths and weaknesses and I have met a lot of their board members. Also, I would love to work with the Turkish antennae, just like Network Commissioner Danae Matakou, because she has set a solid base of work with them and I would like to continue it. Also, Turkey has a lot in common with Greece and I am interested in reinforcing the connections between their locals. Alternatively, I would like to work with some Italian ones at some point, because Italy is one of my biggest loves (I'm fond of the Italian culture and country, I simply can't get enough!).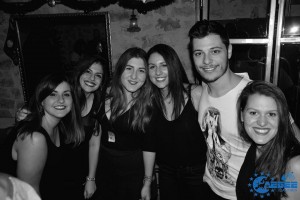 What do you think is the thing you, as a Network Commissioner should work more on with the locals in order to improve their lives?
Apart from supporting them with their responsibilities and the criteria, some trainings to reinforce their HR and PR are always a must. But for me, the most important thing would be helping the locals and their members take initiatives. They are the ones that know their needs best, their pros and cons, as well as the environment, the society they exist in. So, I would like to help them develop and realise their ideas, start making their potential projects come true. That way, they can achieve the best of what AEGEE offers, while at the same time they can personally grow in a groundbreaking way.
You didn't mention LTC, despite the fact that it recently became a criterion. How would you ensure that locals will organise one?
Considering that it officially became a criterion, I thought that I didn't necessarily have to specify it. But you are right, because that shows that there are AEGEE members, who haven't gotten used to this change yet. The LTC is a great chance for the local members to explore a more serious aspect of the Network and to be activated on an international level. But that doesn't mean it has to be less interesting for some of them, because of its seriousness. Just like at the Agorae, we have the fun activities (the parties, the city tours), and the LTC can be lighter too. With the help of the local board's HR responsible, activities can be organised to help new members enjoy the LTC, while learning deeper things about AEGEE. For example, in my antenna we were thinking of a yoga event in the city castle after the LTC (combined of course with the beloved AEGEEan energizers!). Don't you think that would make a LTC seem less of a 'criterion' and more of fun?
What do you think about the Network Meeting Reform? Do you think a standardised NWM will bring more pros or cons?
I believe that the Network Meeting Reform is a positive change the NetCom came up with. It helps the NWMs to have a common concept and structure, while at the same time it allows the NetComs to approach it in their own way and implement their antenna's character and needs in it. For example, a NWM in Aachen and a NWM in Napoli can share common sessions, but won't be the same at all. They can both have sessions adjusted to their own individualities, because at the end of the day the locals are the ones that give to the Network Meeting its unique identity, and the NWM reform works to facilitate this, while at the same time trying to improve the quality of the content. It also helps making the whole procedure more transparent and more organised. Furthermore, it helps amplifying the team character of the Network Commission and the whole Network to be more unified. Let's not forget though, that the AEGEE locals and their needs are still in the center, so it is really not a standardised version, but more of a common structure on which you can build a unique NWM, that will respond to the exact needs of the locals.
You have never taken part in a NWM. How will you be able to organise one?
First of all, being a part of a team is all about covering each other. The Network Commission is a team consisting of ten more NetComs, so I am optimistic that the more experienced ones will help the new ones. That is why there are two terms and a transition period. So the new NetComs won't have to face problems like this. Also, I am sure that NetCom Danae Matakou will be more than happy to support me and help me prepare for it during the transition period. And last but not least, my antenna, AEGEE-Ioannina hosted a NWM in 2014 and a lot of my fellow members were organising it back then. So, I am sure they will help a lot if I need it, just like they have supported me all this time (for which I would like to thank them and express my gratitude for it!).
You can read his candidature
here
.
Written by Gabriela Geană, AEGEE-București