So, it's holiday; you could work a lot to earn some extra money, you could stay at home and be bored all the time, you could book a ticket to a lame, sunny, touristic destination; lying on the beach, eating ice cream and staying in your comfort zone. But for AEGEEans, there is an extra opportunity: Summer University! What else is better than throwing yourself into the deep, going on holiday with a bunch of strangers, eating new food, learning traditional dances, having a lack of sleep? Nothing, am I right?!
.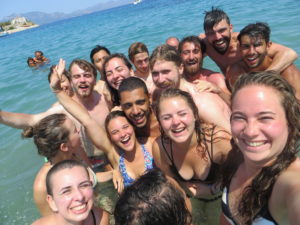 My story starts on the fifteenth of July, when I joined the group in Eskişehir. It seemed a nice group initially, but you can say we had a rough start, because, during this first night, the coup in Istanbul took place. Of course this caused some worries among both participants and organisers, but we were safe and our organisers handled the situation very well!
So the following days consisted of ice-breaking-games, workshops about civic education, lunch breaks, cooking, city activities and dinners. We also met the mayor of Eskisehir. According to Summer University protocol, some partying was included as well. I really loved the pub crawl; it was full of entertainment and nice deals with the pubs. Also, you cannot miss out on a European Night. We played a lot of games and ended with Thirty Seconds (of course my team couldn't be beaten).
We ended the part of the programme in the city Eskişehir with a night camping in the nature. We crossed dangerous rivers, conquered the highest mountains and fought the wildest animals during our journey to the camp! After setting up the tents, we swam and scared the shit out of some frogs in the river. Then it was game time and we all stripped down for the 'make the longest clothing line competition'. Furthermore, we created our own Peace-shirts with pencils and paint. Afterwards it was time for a nice campfire-dinner and some singing, dancing and drinking beers. Next morning we played some games spontaneously. 'Dutch Lions' was among them, which resulted in everyone covered with bruises and scratches.
.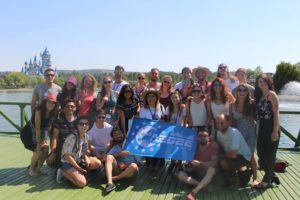 That day we returned to Eskișehir to recover in the Hamam and, in the night, we left Eskişehir and travelled to Pamukkale, where you can find the Travertine (google it!) and Hierapolis. We spent one day there and, in the evening, we reached Datça. Here the story of workshops, traditional dancing, partying and waking up too early continued. We also spent a lot of time at the beaches in the sun. After a game that involved some casual ear licking, French kissing, writing on asses, making a fool of yourself in public and sangria, we exchanged Datça for Fethiye.
In my opinion, the days in Fethiye were the best days. We did a boat tour with a BBQ and a lot of swimming and diving. On the second day, it was time for the thing everyone was looking forward to: Paragliding! I was scared when we had to run from a 2000m high mountain, and my legs were shaking because I don't usually put my life in the hands of strangers (but it was amazing! A new Facebook profile picture is born here).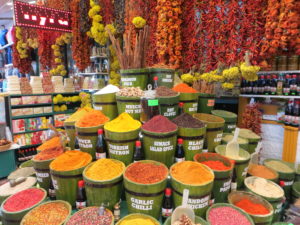 The next day we visited Saklıkent, which means hidden city in Turkish. We climbed through the canyon, but had to return when it got too dangerous. In the evening, we dressed up as zombies with make-up and fake blood and hit the club (no shame). The next day, we had some free time and ate our last meal together. Later, at the hostel, this was followed by an award ceremony. I received the award for best kisser; thank you […].
.
All good things come to an end. We partied together one last time and, during the night, the first people, sadly, already had to leave. Despite a lot of things are going on in Turkey, I really enjoyed my time in this country! All the issues could not have stopped me from going there. I hope the organisers will stay safe in the future. I am grateful I've met all these people. The organisers did a really good job, the board is very kind and the other participants completed this experience! It felt strange waking up to an empty room the first morning at home, without any organisers yelling: 'GOOOOOOOOOOOODMORNING, BREAKFAST TIME'. I think I speak for everyone else if I say that the After Summer University Depression kicked in immediately after the end.
It is strange that you build up friendships within those two weeks. You start as strangers, only connected to each other by our love for travelling and AEGEE. I would have never thought it would be hard to say goodbye to these bunch of […]. But saying goodbye does not exist. Let us make it a 'till we meet again'.
.
Written by Carlijn Cretier, AEGEE-Nijmegen