The new AEGEE Contact in Nicosia has recently become a member of our Network. Andreas Panayiotou is the founder of this contact, even though he does not accept this title for himself alone as he considers this is a teamwork success and it would not be happening without the other members. We interviewed him together with Spyros Papadatos from the NetCom, who also shared his experience on this whole procedure.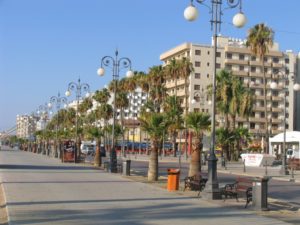 A brief description of the history of AEGEE in Nicosia shows that this is the third attempt to establish an antenna in the region. The first takes us back to 2000 when AEGEE-Nicosia used to be a contact and was promoted to contact antenna in 2006. It was closed but reopened in 2012 and managed to become an antenna again in 2015. As Spyros says, this will be the third time and lucky one. Without any doubt, this time has all the advantages to do so.
It all started when Andreas went abroad to Tarragona as an Erasmus+ student. Even though he had heard of AEGEE in the past. In Spain, he had the chance to see what AEGEE really is, to observe the members of AEGEE-Tarragona and get to know about the structure, goals and the opportunities that AEGEE offers. Challenged by the work the association does at its European level and inspired by the way it combines important issues with the interaction of young people. He returned to Cyprus and determined to open a local. An advantage that also played an important role in Andreas' decision was AEGEE-Famagusta, which he hoped to communicate "in a bi-communal base in social or cultural terms for Cyprus". First, he came in contact with AEGEE-Europe and the Network Commission about the exact procedure and requirements. Andreas talks about a joyful and pleasant process that is characterised by "mutual appreciation, respect and excitement for all the contacts, not only with Spyros but with every member of AEGEE-Europe". However, starting a contact from the scratch comes with certain difficulties. The greatest one that Andreas had to face was the stress of carrying through with the proceedings and the limited time, as he wanted to fulfil everything in a short period of time and see his dream become real.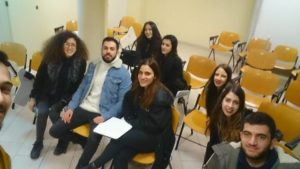 At this moment, AEGEE Contact in Nicosia has 11 members and has already started taking action. Their first goal is to recruit more members for the contact and introduce AEGEE to the Cypriot student community. Their wish and the main concern are to be promoted to an antenna. As a result, they are planning on taking part in European events and are focusing on organising local events, for which they also have a lot of support from the University of Cyprus and the rector Christoforides himself. They are looking forward to the moment when they will be ready to host AEGEEas from all over Europe. Apart from this, a big and crucial part of their future plans is to open a public discussion on a European level because, as Andreas says "it is very important for Europeans to understand that our little island is not in a middle of a war crisis. It is one of the safest destinations in the world and Cypriots create a common spirit for both sides, as the culture of the island is one of its most important aspects and it consists of both European and Arab civilisation. All in all, our plans are to discuss the problems we have due to financial, social and war crisis".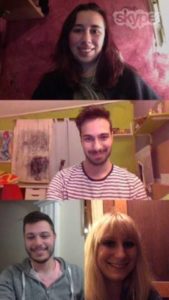 AEGEE Contact in Nicosia was also a novelty for Spyros from the NetCom. Even though he has been working in the position of Netcom for almost a year now, this has been the first time he was asked to open a new contact. He describes it as an exciting experience and a challenge for him because he had to cope with inexperienced AEGEE members that needed to be introduced to the formalities of opening the contact. Despite this, he mentions an exceptional collaboration between Tekla Hajdu, the Network Director, himself and Alejandra Piot from the NetCom with Andreas. His role was to help Andreas and the other founding members through the process and to the extent to create a solid base for them. Talking about his expectations and hopes, Spyros makes it clear that he thinks his "priority would be to build a sustainable antenna on the long-term and to generally support the AEGEEans there to achieve their aims". The term "shrinking network" has been heard a lot over the last years and even though the NetCom does not identify the opening of new antennae as the main solution to this problem, it is nevertheless a pleasure to expand and enhance the Network with new members from various regions, that can contribute with their passion and will in order to work for what AEGEE is fighting for in Europe.
This is the case that also stands for the Contact in Nicosia. We, The AEGEEan, would like to officially welcome them to the Network and wish them all the best for their future plans.
Written by Vasiliki Andrioti, AEGEE-Ioannina
I would like to thank especially Andreas Panayiotou, AEGEE Contact in Nicosia and Spyros Papadatos, Network Commission of AEGEE-Europe, for the interviews.