Florian Hauger is a member of AEGEE-Heidelberg and the current president of the local. His experience in the local and as assistant to a Member of Parliament of Baden-Württemberg helped him decide to run for this position. We asked him some questions in order to find out more about him and his wish to become the next Secretary General.
The AEGEEan: Florian, can you describe yourself in five words?
Florian: Sociable, curious, passionate, caring and AEGEE-addicted.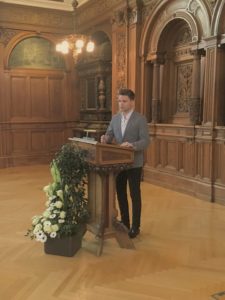 You are the only candidate for the Secretary General. Why do you think is that?
I really do not know. Secretary General of AEGEE-Europe is an incredibly interesting and exciting job. On the other hand, it is probably one of the busiest and most time-consuming jobs in the headoffice. Balancing both in- and external tasks is quite a challenge. Maybe that is what scared people off. But previous secretaries Svenja van der Tol and Kasha Sokolowska proved that it is manageable by doing an amazing job. They are both AEGEEans to look up to and I am happy they convinced me that Secretary General is the right position to run for.
Why do you think that the position of Secretary General fits you best?
I have always been deeply impressed by the wonderful projects and events in our locals across the continent. There cannot be enough appreciation and support for their amazing contribution. Two terms in the board of AEGEE-Heidelberg taught me about the daily challenges of local frontline duty and how to deal with problems. Renewing the bond between locals and headquarter is the most pressing issue in the upcoming term. Apart from its internal and administrative tasks, the position covers external representation, too. As primary contact in the house, I could help our bodies to develop their ideas as well as making them recognised in Brussels. The hybrid character between grassroots and politics in Brussels is extremely tempting and probably one of the main reasons I decided to run for Secretary General instead of External Relations.
You mentioned visa issues and the political impact in your programme. How would you make EU politicians understand the meaning of the barriers for us, for AEGEEans?
Indeed. We should use AEGEE's formal access to the European institutions to strive for our vision and promote improvements like visa affiliations. Many politicians do care about our work and the situation of young people in- and outside the European Union. AEGEE-Heidelberg just managed to get a visit from our Minister of Research to talk about exceptions for tuition fees for foreigners. I would like to use my political experience as MP assistant to promote AEGEE's goals. Meetings and hearings in Brussels are great opportunities to make our ideas recognised in European politics. We should also not forget that we are not alone. As a member organisation, AEGEE enjoys the support of its influential umbrella organisations, such as European Movement International (EMI) or the European Youth Forum. If we want to have an impact in Brussels, we need to work together! I am not a wizard and won't make promises but I will never quit fighting for our vision!
What will be the first thing that you will do in case you get elected?
We have four people running from my local in Enschede. We will probably need to kill a bottle of Bourbon in case all of us get elected. Hint: please vote Viola, Álvaro and Fabian, too! They are amazing! AEGEE-Heidelberg rulez!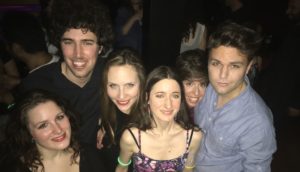 Tell us the most relevant aspects of your candidature and why should people vote for you.
As stated above, I would like to renew the bond between AEGEE-Europe and its antennae. The passionate work of the locals is the backbone of our Network and deserves the best support from Brussels. I want to be there for the locals. Unfortunately, AEGEE is losing more and more members and locals every year. We should not panic but start to discuss new ways to get more young people excited about our amazing organisation. My local work in Heidelberg helped me understanding the importance of promotion and recruitment. If we want to raise our numbers, we need to raise AEGEE's visibility – both on the local and European dimension of our Network. Let's make people understand we are not AIESEC!
Due to my EaP background and the lack of candidates from outside the European Union, I'd also like to speak up for our members from non-EU countries. Although most AEGEEans enjoy visa-free regimes, many members from non-EU countries still need to apply for costly and time-consuming visas to attend AEGEE events abroad. I already stated that I will keep on fighting for youth mobility and visa affiliations. Everyone should be able to attend AEGEE-events. It breaks my heart that it is still not affordable for everyone. That is why I also strive for more social fund promotion in the Network.
Question from the Network
In the CD you share house and office with Financial Director, other members and President. The work of the CD is really dependent on the President and her vision of AEGEE. Which candidate would you prefer to work with, Reka or Loes?
Although I appreciate Réka's long years of service, I support the candidature of Loes Rutten. She is kind, smart, lion-hearted and a true AEGEEan. I had the pleasure to work with her during the preparations for EPM Zagreb and appreciate her reliability, passion and creativity. We share the same vision for the future of AEGEE and how to get more people inspired about our beloved organisation. Furthermore, I really enjoyed reading her programme. Both of us value our locals' hard work and agree that there should be more support provided by the Comité Directeur. Let's hope we can take our ideas into action!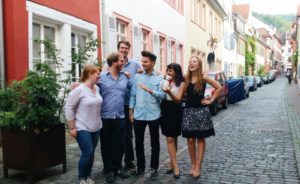 What is your experience in taking minutes in English?
Working in different European Bodies renewed my appreciation of proper protocols. Successful teamwork and transparent communication require conscientious recording. Especially my engagement in the EPM Zagreb Content Team was a great opportunity to gain some experience in minute-taking.
What is your experience in writing grants?
Two years of local board experience taught me that sustainable fundraising strategies are crucial for our development and progression. AEGEE-Heidelberg receives both institutional and public grants we need to apply for every year. Furthermore, we obtain generous support and partial coverage of our European events by the University of Heidelberg Students Council. The financial stability of AEGEE-Heidelberg has always been a team performance and I do not claim to be an expert on fundraising. I will do my best and hope I am going to make a contribution towards the projects' funding.
You can read his full candidature here.
Written by Raluca Radu, AEGEE-Cluj-Napoca