Some weeks ago AEGEE-Debrecen organised a Network Meeting with a very small number of participants, but very interested in every activity proposed by the Hungarian Antenna. The Network Commissioner Alin Georgescu and the local students' organisation "Zerophobia" have been fundamental for the success of this event.
THE AEGEEan: Let's begin by giving us a little information about your Antenna. Who is AEGEE-Debrecen, how many members does it have and how old is it?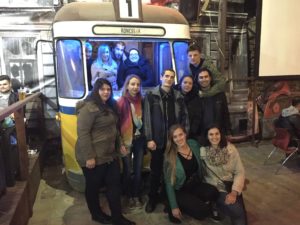 AEGEE-Debrecen Board: The foundation of AEGEE-Debrecen started in 1990, and we officially became an antenna in 1992, so we are one of the oldest antennae in Central-Eastern Europe. Our antenna has been continuously operating since then, and we organised many local and international events (Network Meetings, Summer Universities, conferences) in these twenty-five years. In the past few years we had 30-40 members, and fortunately nearly ten active members this year. Our antenna was always maintained primarily by the students of the University of Debrecen, which has been attracting many youngsters from our region, and recently from all over the world as well. The title of our Network Meeting was "NWM Debrecen – The phoenix rises again", referring to the symbol of our city – the phoenix, and because we want the revival of AEGEE-Debrecen after the relative quiet of the past two years.
Was this the first time you organised a Network Meeting in your local? And if not, when did you organise the first one and what new did you plan to bring new to this NWM?
AEGEE-Debrecen organised several Network Meetings, I know of three at least, with this year's meeting. But the last one took place in 2010, so it was time to organise one again [he smiles]. The new thing was a successful collaboration with a local students' organisation consisting of Hungarian and foreign students here in Debrecen. They are called "Zerophobia" and they fight against xenophobia with different activities. They also delivered a session about the importance and power of communication and words themselves. It was a great success, every participant liked it very much.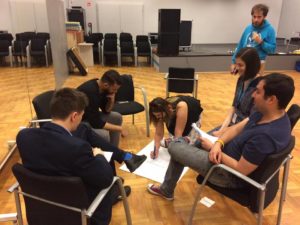 Could you present us the core team behind this NWM?
Practically all of our active members were involved in the organisation, everybody helped where they could. So I don't want to highlight anybody, maybe just our president, Evelin Király. Apart from organising, getting venues for sessions, food, etc, she always motivated us to move on with the organisation process, and make sure our participants never get bored or tired during the programmes.
What was the main theme of this NWM? 
The main theme was to learn how to get new members to your antenna, and how to make them active, but there were also discussions about current problems and the future of AEGEE, and the opportunities our organisation can offer. There were a lot of constructive, open discussions about these important questions. Thanks to our NetCommie, Alin Georgescu, for the good content.
Were there also thematic parties? If yes, what kind of thematic parties?
There weren't thematic parties this time, but I saw our participants were satisfied with the pub crawling and the European Night [he smiles].
How many participants did you accept?
To be honest, there were only ten applications despite the hard promotion, but all of them were good. At the end five participants attended the event officially, but there were also some participants from Hungary, from AEGEE-Budapest, and from our university. It was a small NWM, but the feedback was very positive, and I have also experienced in AEGEE that sometimes smaller events are the better.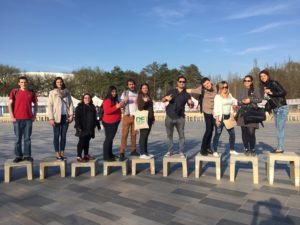 Which was the easiest way for participants to reach Debrecen?
Debrecen is easily accessible from Budapest, it takes only two hours by train. Our city also directly available by plane from some European cities. So I can say getting to here is not an issue.
Did you give the participants a city tour or an optional trip?
Yes, we gave them a city tour. Introducing our city to the participants was important for us, so we inserted the city tour to the middle of the official programme. I think it is important in order to build a good event. As an organiser you have to be aware of it, even in a busy NWM.
Tell us something interesting about Debrecen that few people know. 
I would like to tell about the flower carnival which takes place every year in Debrecen, on the 20th of August, on Hungary's national holiday. On that day, fifteen big cars totally covered and overdecorated with flowers go around the city, once in the morning, and once in the evening. Several music bands, dance groups, and other creatures accompany them in this crazy event, and of course it is finished with a big firework performance. If you want to attend, just call us. You are always welcome here in Debrecen.
Written by Matteo Lai, AEGEE-Cagliari