Although AEGEE-Gdansk is a very small Antenna with very young members, the Polish Local got nominated as Local of the Month of March because they organised their first NWM, also followed by national mass media. Read this interview to the President Wiktoria Rajek and to Yevheniia Pavlenko and find out how you can prepare a perfect LTC in your Antenna.
THE AEGEEan: Congratulations, you were nominated as Local of the Month of March! Introduce yourselves, please, and tell us your AEGEE-Gdansk story. How did it start? Can you tell us a bit more about your local?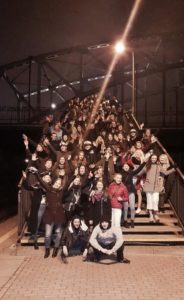 Wiktoria Rajek and Yevheniia Pavlenko: Big thanks for the nomination! We still cannot believe it. We are from AEGEE-Gdańsk, a small antenna with around eleven active members now. The majority of our board were new members, we did not know each other, did not know the structure of AEGEE, did not have any experience, and did not even have many more members (besides the board) [they laugh]. But it did not stop us from doing great things! We were motivated to develop ourselves, recruit new people, and to get into all of this!
How did you come to idea to organise a NWM and managed to succeed in it?
It was a hard decision for our local, because at that moment we had only new members and a new board without any experience in organising events. At the same time Agata (one of our members) was organising a Local Training Course, Daria was organising a charity project called "Helpers' generation" for potential future donors of bone marrow, which lasted one week (we are very proud to announce that we have registered one hundred-eighty potential donors), and Marta was responsible for the recruitment process at that time. So as you see, it was a really busy time for us, but we thought that if we had not tried, we would not have gotten any knowledge and remained as inexperienced as we were before. Thank God, we (Wiktoria and Yevheniia) decided to undertake coordination of the whole process of organising NWM. And we can say for sure that it was one of the best decisions than we have ever made.
What are you working on at the moment?                                                     
At this very moment, we are just after elections. Our candidates for future board members have great plans to thrive our local. They would like to organise a European event (not only one), so stay tuned, follow our fanpage on FB, and maybe in the nearest future you can apply for them!
Did Polish TV follow your NWM? Which has been the feedback about that?
Yes! Thanks to Dorota, who was PR Responsible of the NWM, besides many articles, radio and, of course, usual promotion of the event, we went a step further and she managed to invite a big Polish television. They made a short material not only about the event, but also about AEGEE in general. We think it was great in terms of PR, and it really helped to make AEGEE visible in our city. The feedback was really good! Participants were happy and a little bit shocked [they laugh] at the beginning, and for some of us it was the first time when we were interviewed. It was for sure an unbelievable experience.
Can you tell us the secret to prepare a perfect LTC?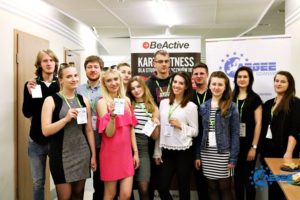 In our opinion the key to the successful LTC is very simple. Firstly, you have to place yourself as a contestant and determine your expectations of the workshops. For example, what do you want to find out, what is the problem for you with entering into a labour market. Then find trainers, and describe them your vision. You can devise some theme for LTC and prepare workshops connected with one subject then. During that step, take care of the promotion of your event – it is very important for two reasons, because you are not only promoting the workshops, but also your antenna. We are still shocked about how our LTCs get around one hundred applications. It only shows the keen demand for self-development of young people in Gdańsk. And last but not least: remember that it is impossible to do it on your own – the strong team is the key!
How did it feel to find out that you were nominated?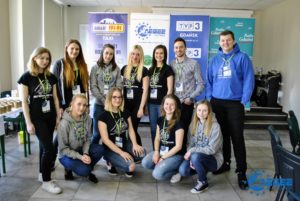 Ooooh [they laugh]… It happened during the closing ceremony of NWM, Stas Mahula, our Network Commissioner, and Maarten de Groot from CD recorded a short video and officially nominated us with the support of all one hundred participants. Needless to say, it was a very touching moment. There were a lot of other locals which organised NWMs this year, and were active, but AEGEEans decided to nominate Gdańsk as a local of March. For us it means that all our efforts were not in vain, and everything we did had and still has a big impact on the members' development. After our NWM some of the participants joined even the European working groups, such as PRC. It is our best accomplishment, to know that our event actually motivated somebody to strive for more.
What is your motto? Can you describe your local in one sentence?
"Size doesn't matter" or "nothing is impossible", hard to choose. We like both and we think they suit the character of our local. This event and every other which we organised at that exact moment taught us one thing which we would like to share with you – if you really want to do something, you will find a way. If you don't, you will find an excuse.
Written by Matteo Lai, AEGEE-Cagliari