After candidating for Spring Agora Enschede and spending these past months working for the Mediation Commission, Daniël Amesz from AEGEE-Leiden is ready to committ for a full term. We reached out to him to discover more about his experience and plans.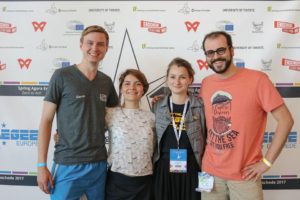 The AEGEEan: In Enschede you promised you would reapply for the MedCom and here you are. Did the job live up to your expectations?
Daniël: If anything, it exceeded my expectations. Before applying, you only know which tasks the CIA dictates to the body, but the experience is always much more complicated. During this short term we have been through a lot of different things and I think we've been able to help people and that is just the best feeling in the world. Sometimes the situations that you are faced with are emotionally challenging or difficult, but at the end of the day you are there to improve the situation and it are also these moments that let you learn so much.
How would you describe an active day of your life in the MedCom?
One of the interesting things with this commission is that you have no clue what tomorrow will bring. We work on a call to action basis, which means that you can't plan a lot of the work that you get. It's kind of like the fire brigade, trying to put out fires all over the network whenever they come up. Of course, I cannot go into details of any cases we've been involved in. But it definitely happened that you have a skype meeting until around 1:30 at night with one group and then have the other side of the story scheduled for 09:00 the next morning. Furthermore I've been skyping, e-mailing and chatting pretty much everyday of my travels this summer. So yeah, it's a busy life, but I really like it.
In your previous interview with us, you said "I hope to learn more on (inter)cultural conflict resolution". Did your work for the MedCom help you in this so far?
Yes, it has. I've never had the chance to work so intensively with so many cultures before and you can definitely spot differences. Some are small and don't require any change in approach, whilst others benefit from using a different tactic or choosing different wordings. Of course, I'd love to be able to get some more experience in this field. [he laughs, ed.]
You mention that there's "speed to be gained" in the activities of the MedCom. Could you give us an example of how you envision your suggestions put into practice? How would they speed up the processes?
As I mentioned in my application, I think it would be good to immediately appoint a case officer within the commission that takes responsibility for any email that reaches us. That way we can be more organised, prevent doing double work or miscommunication on who would do what. I do not want to cut into investigation time, nor do I want to decrease discussions within the team, as being able to properly look into all sides of a case and using the different points of view within the group is vital to the work we do.
A big point in your application is data privacy policy. One of the problems there, as you mention, is that "people are simply not aware about the rules or ignore them". What would you suggest to counteract this?
I don't think there will be easy answers or quick fixes for this problem. It is something that has to grow, but we can definitely help that process. First of all, we should look into the registration forms that people sign to become a member of an AEGEE local. This document should contain the proper disclaimers and statements regarding the data that members provide. Streamlining these forms should already help a lot when it comes to increasing the implementation. Furthermore, it could help the awareness, as everyone should read about the existence of the Data Privacy Policy Statement when they sign up and boards will learn about it when they alter the registration forms. Furthermore, data privacy has been the subject of NWM workshops and that is something that can continue, even by people that are not in the MedCom. Besides that, the Board Knowledge Transfer Template makes no mention of privacy anywhere. These are things we could put more effort on in the upcoming year.
In your previous interview you mentioned the creation of trainings in communication for conflict avoidance, and in your candidature you say that you are working on those. How is the work going? Will they be available soon? 
Last week, I tested out some of the materials during a presentation about the MedCom for the new members of AEGEE-Leiden to see what would and wouldn't work. That provided some useful insights and I am now working on getting to a stage where the workshop could be given by anyone, not just me. This is, however, a lot of work and probably requires another test some time. I hope to have the materials ready before the spring NWM's, but it greatly depends on how many cases we get as MedCom whether or not I'll make it on time.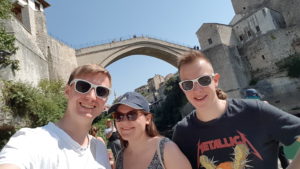 Lastly, why should Agora vote for you?
The MedCom is a tricky position and something where experience is really important. I am extremely grateful for the help and mentoring that Petra and Damien have provided for Suzan and me these past few months. Without their presence, we would have surely made quite some mistakes. It is this experience that I will take with me to next year and which would help the MedCom have a healthy continuation. Besides that I am still very motivated and would love to be able to keep on doing the work. I'm glad to have been able to learn what I have, but it would be sad to say goodbye to this commission so soon. It is definitely something you need to grow into and it feels like I've only just done that. It would be great to do it another year, so I hope the Agora will place its trust in me again in Catania. [he smiles, ed.]
You can read his full candidature here.
Written by Federica Soro, AEGEE-Cagliari