Member of AEGEE-Lviv, freelance translator, and AEGEE enthusiast. But that would be failing short to present Ruslan Kvitnevyi, a two-year-old AEGEEan who has already done more than most in that span of time! You will get to know more about all the posts he is in, but as a little preview, let me tell you the number *leans to whisper but not really* 4! And he aspires to add another one: Network Commission member. His game-plan seems solid, so, let's get ahead with the interview!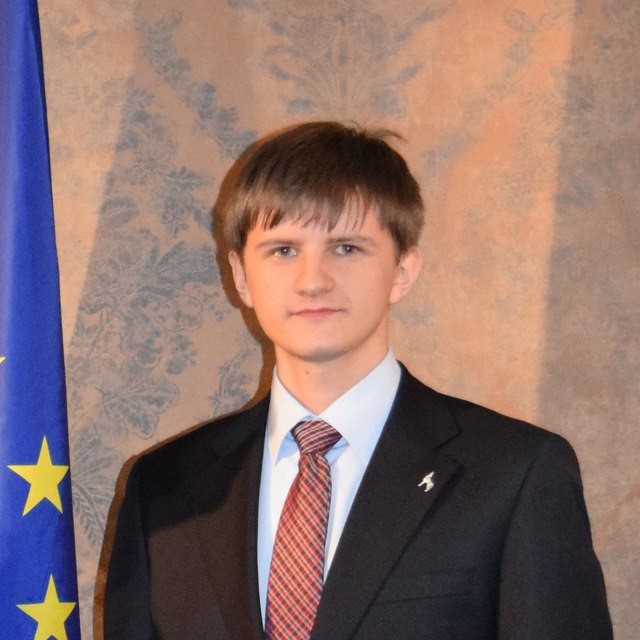 Hi Ruslan and thank you for your time to be interviewed. To start off, could you tell us a bit about yourself and your career in AEGEE?
Hey! Thank you for having me. My name is Ruslan, I'm a 29 years old AEGEEan from Lviv, Ukraine, a freelance translator, and AEGEE enthusiast. I joined AEGEE exactly 2 years ago (officially on myaegee.eu – 08.01.19) and since then has already served AEGEE-Lviv as its President (2019-2020), since July I'm serving as SubCommissioner in the Wild East area, Content/Pr & Communication Team member in AEGEE EaP+ Project and the most recent position – Advisory board member in AEGEE-Lviv. During this time I participated and helped to organize various local (LTC, NYE) and European events (SU, SUPS), restored antennas' history, opened up bank accounts, updated Statute, and antennas' visual representation.
What was your life like before AEGEE? What's the best part about being in AEGEE?
Dull and boring (smiles). The best part for me as a person is that AEGEE helps you to get out of your comfort zone, meet people with an interesting cultural background, constantly learning new skills along the way, and as a Ukrainian – brings Lviv closer to Europe and vice versa.
You've been a sub-commissioner, held various positions on the board of AEGEE-Lviv, been part of the EaP+ Project, and have organised various local events. What are some key learnings from this experience that you would carry on to this role?
Serving as President of an antenna has taught me how things are organized and communicated on the local level of the Network which gives me a certain experience from a local perspective that I'm willing to use to enhance organizing and communication parts. Being part of both NetCom and EaP+ has taught me the international working framework, in which I'm interested in continuing to work and to create a friendly environment with goal-driven team members. Working with appointed locals as a SubCom helped me to understand the other side of the interaction between the NetCom and the locals, gave some ideas of reforming and improving it, and motivated me to serve them more.
Going to your programme, what are the main objectives you want to achieve during your period as a Network Commission member and what is your gameplan?
Program minimum: to enhance quick and effective communication between antennae and NetCom; to maintain/enhance the sense of areas' community; to work on the existing NetCom Activity Plan 20/21; to encourage locals making partnerships with other locals (twinships), AEGEE European bodies, universities, authorities; to make an online area meeting event.
Program maximum: all that listed in the Program minimum PLUS create Contact(s) within the area, organize a live area meeting, help organize NWM/RTC. Note: If possible.
To ensure better communication between the locals and NetCom I intend to provide antennae with all the necessary updated information, constantly checking on their Health Indicators and Development Plans.
To ensure a sense of community – engage respective antennae into various NetCom events and/or activities, create a trustworthy and healthy working environment with SubCommies to ensure the fulfillment of the task descriptions.
To ensure working on the Activity Plan – since I'm new to it, I trust my (hopefully) future colleagues to guide me through it and help me contribute to it in order to be as useful for the NetCom and the locals as possible.
To encourage locals to find and make partnerships, I'll promote a twinship initiative and encourage them to take steps in mutual exchanges (within the area and externals), as for AEGEE European bodies I will promote cooperation between the locals and bodies, which can be useful especially considering the current COVID situation, regarding universities and authorities, it's too vague to make a guideline now, as each local in every country faces different struggles regarding these issues and must be helped with a different approach, which requires discovering their needs first and crafting custom partnership agenda later to meet them.
To ensure online/live area meetings and the possible creation of new Contact(s), it heavily depends on a number of factors, with the COVID situation being one of the most important. Therefore requires different approaches.
What are some of the unique challenges you see the NetCom facing due to the pandemic and how would you approach them?
I see maintaining the current quantity and quality of antennae within the area, conducting live/online events, and ensuring cooperation between the locals and AEGEE European bodies as challenges, enhanced by the pandemic. I believe that in a current situation we must enhance cooperation first and foremost between the locals, between the locals and NetCom, and between the locals and other AEGEE European bodies. A custom approach to antennae needs, with brainstorming the ideas jointly and sharing successful events/activities case studies will benefit the building of areas' community, make room for improvements, and strengthen the area overall.
To conclude, what are your next objectives in case you are not elected as Commissioner?
Continue serving as a SubCom, Content/Pr & Communication Team member in AEGEE EaP+ Project and Advisory board member in AEGEE-Lviv, learning new skills and gaining experience until the next opportunity presents itself.