Hello dear AEGEEans! Another month and another 'local of the month' we proudly present to you! And what a local! With an awesome team of 20 active and energetic members, more projects than one can count – Urban Jungle, Foreign Voices, PR Masters project, one that's a secret but that you'll discover if you read the article shhhh – and amazing words of wisdom (except the key one, where to buy a 'Iulia') here comes AEGEE-Bucaresti!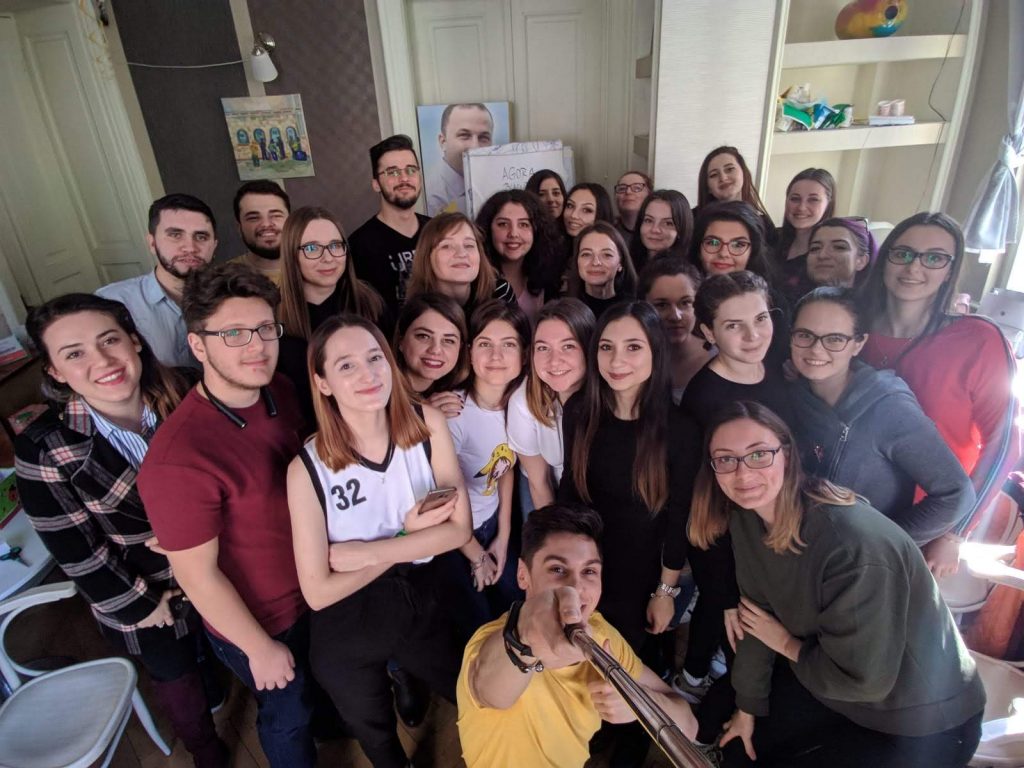 Congratulations on being awarded the Local of the Month! We'd like to hear more about you! What sets you apart ?
Hello hello! Firstly we are very proud to be selected for this wonderful distinction. At the moment, our awesome team is formed by 20 active and energetic members who are the core of all the projects that we organized in the last period, we know it is not a big team but is a very well-knit one and as you know the saying – strong essences are kept in small bottles.
In the last period, as you probably already saw, we were focused on many areas of discussion. Firstly, we can start with our soul project "Foreign Voices" which debuted in early February in collaboration with our friends from AEGEE-Athina, AEGEE-Thessaloniki, and Language Interest Group. From the beginning, the scope of this project was to promote linguistic diversity and to help us to get to know the youth from other countries. We hope that we will attract as many friends as we can in this project because we think that it has the potential to be a long-term beautiful story.
Another project, that you probably saw on our social media, is the Urban Jungle, a project made in collaboration with our interns. The main purpose of this project was to raise awareness through students and young people on subjects such as financial education, marketing and digitalization, mental health, and project management. Given that it is a pilot project, the target audience was represented by students and young people from Romania. But, we have a secret that must remain between us – we are ready to move on to the next level and to launch it at the European level in collaboration with other antennas and interest groups.
Because the pandemic made us live our lives more in the virtual environment and we are very passionate about marketing and public relations, we decided at the end of the last year to organize a project focused on this field and it is known in our antenna as PR Masters, it was also a pilot version because we wanted to test the market and the project structure before launching it completely. Basically, we help people that entered this project to learn and understand what are the steps for a marketing campaign from the scratch.
And last but not least, our freshest project focused on raising awareness of the European Union and its programs and opportunities offered to young people. Europolis has the purpose to help young people to find what European Union, and especially European Parliament, has for them.
Even if the pandemic hit us hard, we tried to gather our strength and be reborn because in 2020 we really lacked the life of the usual AEGEEan. So, when we started the academic year, we decided to give it a try and hold the autumn recruitment session because we know that we need a fresh start. This time, however, we changed tactics and reshaped our strategy to a qualitative rather than quantitative recruitment. And after that, the single secret to keep the people active and motivated is to organize as many projects as you can and to have weekly status meetings to check everything.
What are some of the most memorable moments you've had in your local?
We think that probably most memorable moments are represented by Christmas activities and our Anniversary activities where we remember how our AEGEEan lives before the pandemic were and where we met alumni and people from previous projects and we walked through memories and old stories. Other memorable moments took place during workshops within the Urban Jungle, Foreign Voices, and PR Masters projects.
What has been the key to your success? Which areas have you found challenging and how did you overcome it?
Even if we had a board, we think that each of us is equal and each opinion is important. When we talk about new projects or about the changes to the editorial plan we do brainstorm together and after that, all the ideas are analyzed by all of us and we start planning. Secondly, every team should have an engine that will move mountains and push you to take responsibility and evolve – for us this person is our president Iulia, who challenges us every day to push our limits. So if you don't have an Iulia, you should buy one (smiles). And last but not least, we actively practice knowledge transfer by challenging people to accept key positions in projects, even if we talk about a Project manager project, a Graphic Designer one, or a Copywriter one.
Some words of wisdom to other locals?
Each of us should understand that:
1. All the members are equal and have the right to express their ideas.
2. When we organize projects we should take into consideration the fact that the time of each of us is important so the deadlines should be respected.
3. During our time in AEGEE we should learn, work and have fun too. Basically, live our lives and create memories.
4. Collaboration is the key to success and we must respect our promises.
Any closing remarks?
We hope that we will have a continuous evolution and that after the pandemic will be over we will organize projects again in real life because the connection between people is more stronger and interesting there. We also hope that the "See you somewhere in Europe" will be possible again because we really miss the travels and the AEGEE projects in the old way.