This election of the member of this month was quite a roller-coaster – we had so many incredible candidates. But we unfortunately could choose one just and that one is Anastasia Sidiropoulou from AEGEE-Academy! Member for two years, her AEGGE story is as amazing as she is. Because what can be better than it being about her developing and discovering herself? She now is a trainer, a volunteer and a traveler for whom, if she dreams it, everything is possible! Wanna know how AEGEE helped? Read this article!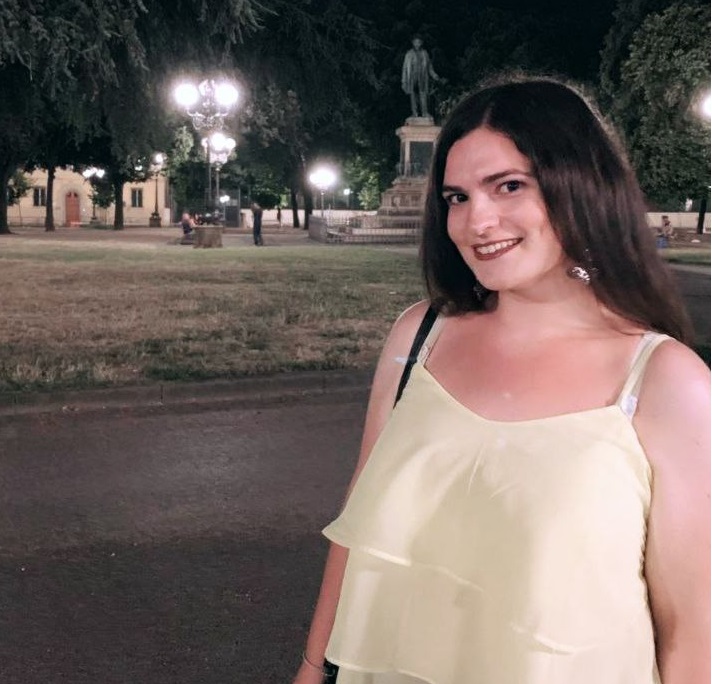 Congratulations on being awarded the Member of the Month! We are all eager to hear your AEGEE story.
First of all, I would like to thank you for the nomination. It is so motivating when your efforts are appreciated! I joined AEGEE two years ago, in March 2019, when I was looking for ways to develop myself as an undergraduate student. It was just a simple Facebook post for a training event that opened the AEGEE world for me. From the first AEGEE gatherings that I joined and I felt that AEGEE was the perfect place for me to start growing as a volunteer and get out of my comfort zone.
Two weeks after being a member, I joined my first AEGEE event as a helper. This event was the beginning of my journey as a trainer. For those that do not know it, I am currently studying Adult Education and at this event I realised the uniqueness of my studies because I saw in front of my eyes how being a Non-Formal Education trainer looks like. Also during that training course, I set my first goal in this organisation, to attend a Training of New Trainers, which fortunately happened 6 months later.
Currently, I am the Public Relations Manager of AEGEE-Academy and I am looking forward to continuing being part of AEGEE-Academy board for another term. My motivation to be active in this organisation is my willingness to develop myself as much as possible, creating development opportunities for my fellow AEGEEans and contribute to making this world a better and more educational inclusive place for all of us.
What has been the highlight of your time in AEGEE?
Being part of AEGEE-Academy is the most unforgettable highlight of my time in AEGEE so far. Being able to collaborate, in order to organise and implement training events, with people that are passionate for Non-Formal Education like me is more than exciting. Also, my whole term in the board of AEGEE-Academy as Public Relations Manager is an amazing experience. This year, I discovered that I have skills, which I have never imagined.
What are some of the most memorable moments you've had in AEGEE?
Mmm that's a tough question…I will say first of all, the Training New Trainers (TNT) event that I attended in 2019 in Budapest; designing outlines and drawing flipcharts with other trainers in the middle of the night, sleeping only for 5 hours and still have energy to participate in sessions (alright…maybe with the help of some cups of coffee haha!). Also, "The DiWine Comedy" SU of AEGEE-Firenze and a Brainstorming meeting that we had with the board of AEGEE-Academy some weeks ago in order to draft the idea for a study session that we wanted to apply for were moments that will always be written with lovely words in my heart.
What are some ways in which AEGEE helped you in your life?
As I mentioned above, AEGEE was the perfect place for me to grow as a volunteer, develop myself and find the Trainer that exists within myself. AEGEE came in my life the right time, when it was time for me to get out of my comfort zone. I learnt to work in teams, especially remotely, to deal with conflicts and be able to manage my emotions in the working environment. Skills that came up as outcomes, when I had to deal with difficult situations and I should not give up. Also, right now I feel more confident about myself when I am talking in a big audience and in a language that is not my mother tongue. Something that was not so easy for me to do so three years ago.
Last but not least, I learnt to travel as a traveller instead of a tourist. The way that I used to travel completely changed for me after meeting AEGEE. Super happy about that fact. Not everyone has the opportunity to experience how it looks to be a real Traveller.
What are your words of wisdom to your fellow AEGEEans?
One of my favourite quotes: "If you can dream it, you can do it!" – Walt Disney
Any closing remarks?
Warm virtual hugs to all the amazing people out there, with whom I have the opportunity to collaborate with and to those, who always support me in my AEGEE journey. They know who they are!