It is hard to say 'former editor-in-chief'of the AEGEEan. Hard, because I remember how it all started, how we chose Stephanie and how I took People's section because there was nothing else left (the greatest 'punishment' for being late). Now – a year and a half later – everything looks different. The AEGEEan is well-known, follows strict standards for publishing and the number of team members could not be counted on fingers anymore. All of this, together with the sweet joy of having 1000 likes on the Facebook page or the fantastic and funny editors' skype meetings with Jüri have one main figure that connects them, and without who The AEGEEan would not have looked the same – Stephanie Müller who has been the first editor-in-chief of The AEGEEan from it's start.

AEGEEan: How do you feel, Steph? Do you still open The AEGEEan every day?
Stephanie: I feel truly sorry that I left The AEGEEan and its wonderful team, but I have other AEGEE
projects to focus on at the moment and with Patricia Anthony being my follower, I felt extremely well replaced. Therefore, I am also very happy that I know that The AEGEEan will be in good hands after my resignation. So, I can say I leave the magazine happy and sad at the same time, but I guess this is the best I can wish for. After such a long period of working for The AEGEEan I did not expect it to be easy to let go.
Indeed, I still read The AEGEEan articles daily. I guess this is a habit I cannot give up on so easily.
Was it hard to leave 'your baby' to somebody else?
Yes, definitely in one way, as after one and a half years I am so used to the procedures of publishing articles, communicating with the team on a daily basis with lots and lots of emails per day, it is kind of hard and strange not to have these daily tasks anymore. On the other hand, I am happy to see that The AEGEEan is moving on with new people full of ideas and motivation. It is a good thing when projects go on, but new people have the chance to realize their ideas too. This is needed to keep a project alive and to improve it.
What did this experience mean for you? What did it teach you?
I learned so incredibly much as in no other AEGEE project before. I learned a lot about team leading, team dynamics, how to motivate others and how to set strict deadlines people actually keep. At the same time, I learned how I behave in such a team, and I trust that I am a good team leader (at least no one told me the opposite) and I gained a lot of confidence with my tasks. Also, through The AEGEEan I got to know indeed a lot of people on the European level, I made really great friends and I had all the news about what was going on in the Network before anyone else. So, I felt very well-informed and I liked sitting at the source of information.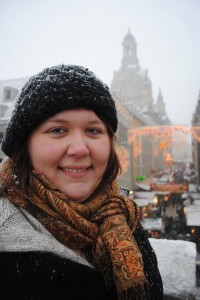 The AEGEEan taught me that I can achieve anything I want if I believe in myself, and for all these experiences I am very thankful and happy that I had the chance to make them.
Which was the hardest moment of establishing this really trustworthy internal tool of AEGEE? Well, the hardest part was probably the first three months, because everyone in the team was very new, so we did not know each other, did not know what to expect from each other and we were not so structured and organised as now. Also, at that time, I was doing a full-time internship in Cairo, so I had only time for The AEGEEan late in the nights. However, we found our way.
Which was the happiest moment?
The happiest moment was for me when I met the first people I had only been in contact with by mail before. So, it was definitely the first team meeting in Brussels and at the EBM Izmir, where I had the chance to meet more team members. However, there were so many other happy moments, like the secret cake party during the Agora Budapest or the sometimes very funny editor skype meetings. I have to say, I loved the editor skype meetings, as we were actually talking with each other, which made the conversations much more lively and funny sometimes.
Did The AEGEEan change you? When did you realise that it happened to you?
I would say yes, in some way. I got much more confident in my capacities and also in what I want to achieve in AEGEE. I realized it at some point in the summer last year, when the first editors one after another told me that they would like to leave the editors' team and I began to think about my position in the team and what I have achieved for myself in The AEGEEan.
When did you realise that you needed to move on and leave the post of the editor-in-chief?
Well, after I declared to my local that I want to be in the core team of the Agora Rhein-Neckar and after I got selected by the Comité Directeur as Policy Officer in the field of Social Inclusion and became Financial Manager of the EuroArab Project as well, I knew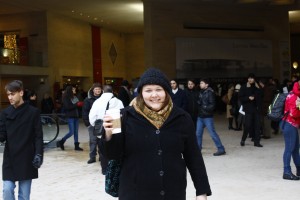 that it would be hard to stay editor-in-chief of  The AEGEEan. My interest in other AEGEE projects also showed me that I should think about my position in The AEGEEan and I came to the conclusion that I have given to the team everything I could and this would be a good moment to leave it as I have no regrets and did not make any bad experience in The AEGEEan team. So I could leave with only happy and positive memories.
What is waiting for you now? Next challenge is called…..?
The biggest AEGEE related challenge for now is the Agora Rhein-Neckar. I am very happy about my choice to join this team. It is just incredible to work with all these great people. I believe, it was the right decision. Although, I am now having three times more emails per day as previously on The AEGEEan mailing list. Then, I have big plans to promote my topic "Rascism & Xenophobia" which I am working on as Policy Officer within the Network and I write a position paper against racism.
Besides AEGEE, my biggest challenge is to finish my thesis and my studies.  At the end of this year I will finally leave university and then, who knows where I am going to. I just know that it definitely won't be Heidelberg anymore.
If you needed to start The AEGEEan now, would you do it again?
Of course, without hesitation! It was one of the best decisions of my AEGEE life to work on this project and see how it developed and how I developed with it.
What would you say to those people who are maybe reading this and hesitating to join the team?
I would say: "Don't hesitate! There is no reason for that. Anyone who likes writing should give a chance to a career at The AEGEEan! You can learn so much from the magazine and from the people working for it. All of the team members have a great talent for writing, and in some cases already a professional background. If anyone considers becoming a journalist later on in his/her life, he/she should definitely test his/her skills in The AEGEEan magazine first.
Thank you, Steph and we wish you good luck for your future challenges!
Written by Liliya Buyukliyska, AEGEE-Sofia