The work of a Policy Officer involves a lot of reading — lengthy study and survey reports, lofty European Commission publications, and repetitive online discussions — but every now and then something more exciting comes along as well. One of those moments was the first lobbying meeting of the Dutch Youth Council on Education for sustainability, followed the next day by a busy policy debate at the European Parliament on Entrepreneurship skills. A brief account of 24h in the life of a Policy Officer…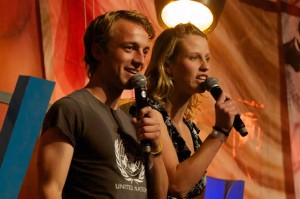 For the second year the Dutch Youth Council (NJR) is trying to focus the bulk of its lobbying efforts towards a single aim. Last year, their board member for advocacy, Gabe worked on study financing, and this year his successor, Felix got the task to work on Education for sustainability. This topic was proposed some months ago by the Dutch AEGEE locals who, following AEGEE's Strategic Plan, recently became an NJR member.
Of course 'Education for sustainability' is a hopelessly broad field, so the aim of the meeting at the NJR headquarters in Utrecht is to help Felix narrowing this down to a workable lobby point. Felix and Gabe and some of their colleagues had prepared four possible scenarios to bring sustainability into the Dutch education system, going from working on the learning outcomes to creating sustainability for university students.
Two rounds of discussion with board members and representatives of member organisations direct the topic towards developing sustainability projects within the vocational education system. A challenge since many member organisations — including AEGEE — have fewer links with this part of the student population, but also a huge opportunity, as sustainability has long been considered as something elitist.
Early next morning, I'm on my way to the European Parliament in Brussels for a policy debate organised by EUCIS-LLL, the European Civil Society Platform on Lifelong Learning. Together with CD-member Beata Matuszka, I'm presenting AEGEE's experience with entrepreneurship education, drawing lessons from Europe on Track's discussions with young people and the previous editions of the European School on Entrepreneurship.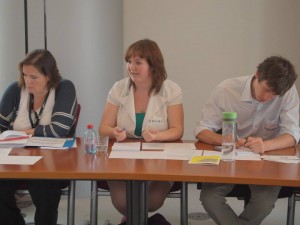 The meeting is hosted by the Austrian MEP Heinz Becker (EPP), who immediately frames the debate by referring to the European Commission's Social Business Initiative: "The main objective of social business is to generate a significant impact on society, the environment and the local community." After interesting presentations from EfVET (on teaching young people entrepreneurship skills through their regular teachers) and YFJ (on the results of their study into the impact of non-formal education on youth employability), and a testimony from a former participant of the Erasmus for Young Entrepreneurs programme, we are up.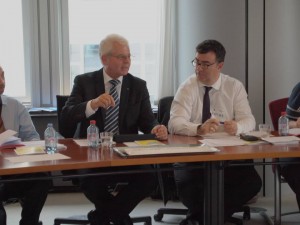 Other contributions before the floor is opened to questions include people from DG Education and Culture ("The methodologies needed to teach entrepreneurship skills are very much based in non-formal education") and DG Enterprise and Industry ("Entrepreneurship is a key competence for everybody, it's not just how to start a business"), as well as a rapporteur from the EESC refocusing the discussion on the main goal of education: to create free citizens with a critical mind who can function fully in the society.
Strong comments were made by SYNTRA, pointing to the fact that we are fighting — and are thus risking to lose — a war on two fronts (namely by using a confusing terminology and by frightening teachers with new topics to teach), by EFIL on extending the debate to entrepreneurial knowledge and attitudes, and OBESSU stressing the danger of focusing the education system too strongly on following the job market — a concern also heard in Zagreb during Europe on Track.
MEP Becker's closing question whether students know about social entrepreneurship offered the opportunity to put in a quick point on Education for sustainability as well: "Students don't know about these valuable types of entrepreneurship, just like they know little about social or sustainability issues. To change this, a deeper reform of education is needed, beyond the contents of entrepreneurship education." Now let's hope that  he will take all of our comments with him!
Written by By Mathieu Soete, Policy Officer on Sustainability
Pictures credit of:
Hans Kreutzer
EUCIS-LLL