Board member on the local level, vice-chairperson of AGORAe and EBM, subcommie in the Netcom team, representative of the Dutch locals towards the Dutch Youth Council, always energetic, optimistic and ready to have fun. This is our new member of the month – Paul Smits from AEGEE-Enschede. Let's see what he had to say to the AEGEEan: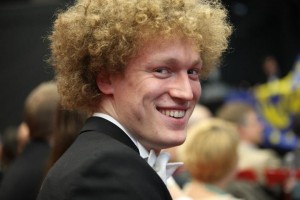 The AEGEEan: Tell me about your experience in AEGEE.
Paul: It started when I came to Enschede to study. I wanted to join an association, meet many people, make a lot of friends and get to see a bit more of the world. AEGEE soon turned out to be a perfect means for achieving those early goals. While I was having lots of fun, AEGEE more and more became part of my life. I became active on the local level, went to my first Network Meeting and after my first year I went to my first Agora as a Delegate for AEGEE-Enschede. Back then in Enschede I organised some trips, a Summer University and a conference and I soon wanted to commit myself to a year on the Board of the loveliest association of Enschede. As External Affairs responsible, I was responsible for all external affairs of AEGEE-Enschede, except for those concerning Europe. After gaining experience in the Board, I moved on to the European level as sub-commissioner of the Network Commission and Vice-Chairperson of the Agora and EBM.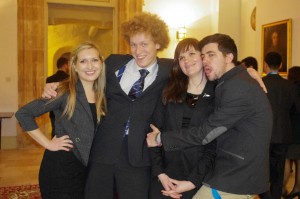 What was it like to be Chair of two statutory events? Was it a lot easier the second time? 
I enjoy preparing and chairing the events with the rest of the Chair Team a lot! There is a lot going on in the months before a statutory event, which I had observed only from the point of view of the organising local in Enschede in 2012. It is a great experience to be in another essential part of the huge group of people involved in organising statutory events. This applies also to actually chairing the Agora and being at the cool side of the Chair table looking at all those lovely AEGEE faces.
The EBM is of course very different from Agorae. There are less people to entertain, less decision-making going on and fewer days than at the Spring Agora. On the other hand, there are more thematics and interesting discussions, which are awesome, but not very much connected to the work of us as the Chair Team. The EBM Valletta therefore was an easy start for us as Chair Team. The Spring Agora Rhein-Neckar was a bit more challenging, but since I am working with some thoroughly experienced members and the local organizers delivered a very well structured event, we were able to have a quite smooth Agora.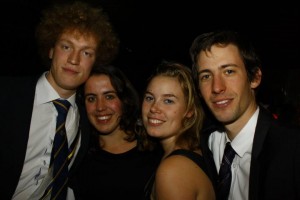 What are the different sides of working in the Board team and in the Chair team?
Working as a Board member of AEGEE-Enschede was a full-time job. We had fixed office hours, meetings all the time, and a lot of quality time with each other and our members. Naturally, this is very different from working in the Chair Team, which is more like any other body on the European level, I guess. Skype and Hangout meetings, dividing tasks and executing them on your own, in between the other things in day to day life.
Also after a while in the Board, each week became more and more like every other week. In the Chair Team however, we are working towards a single big goal with various steps along the way there.
Did you enjoy being a subcommie? Do you plan to conquer NetCom soon too?
Being a sub-commissioner was very enjoyable. I had lots of fun with Wieke, Marije and Mathieu in supporting our part of the network. It was a good way to broaden my horizons beyond the borders that surround AEGEE-Enschede for most of its members. In addition, because I was already a sub-commissioner, it was a fitting choice also to apply to be the very first representative of the Dutch AEGEE locals towards the National Youth Council (NJR). In that position, I am trying to achieve mutual benefit for the organisations. In AEGEE, strong Dutch locals can put their strengths to use in new and better ways and weaker locals can improve through cooperation opportunities and new funding options. AEGEE now also has a big say in selecting the Dutch Youth Representatives on European Affairs.
The Network Commission might very well be the coolest (and best-looking?) body of AEGEE.
Now I do not think I will be running for Network Commissioner in the near future. After my year as subcommie and after representing the Dutch locals towards the National Youth Council (NJR), I feel like its maybe not my time anymore to interfere with the Dutch-speaking locals. As long as there are good candidates for this part of the Network, I will be happy to leave the opportunity to discover and experience AEGEE as a Network Commissioner to those others.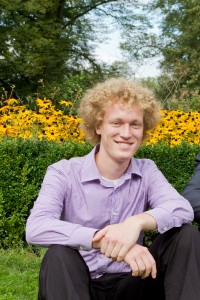 What do you do apart from AEGEE? Studies? Work?
I finished my Bachelor thesis on modelling Single Pulse Electrical Stimulation of the brain cortex last week and after summer I will start my Masters in Technical Medicine, which will take me at least three more years. I have an interest in almost everything, so choosing studies and projects is not always easy. Discovering the world, enjoying it in every way and contributing to it as I see fit, that is my job. Studying is a hobby, which I do in my spare time! Who knows what will come on my path next.
AEGEE seems to fill a huge part of your life. Do you have a separate group of non-AEGEE friends that you spend time with? Sometimes getting some AEGEE-free air can be very refreshing.
If it were not for AEGEE, I would be a total hermit. Most of my friends nowadays have some connection with AEGEE in one way or another. Apart from my housemates and some fellow Technical Medicine students, it is all AEGEE for me. I do not consider this a bad thing, at all. Is AEGEE-free air supposed to be refreshing? In my opinion, AEGEEans are diverse and versatile enough to be refreshing in their own right. If I only compare some of my local fraternity friends with some European active AEGEE members, there is already a great variation in people. This is one of the key characteristics of our organisation that makes it so amazing!
Do you have a motto by which you live or strive to live by?
There is a solution to everything; if you want it enough you can do it.
Grasp every opportunity. Be happy in the present.
As you would like people to do to you, do exactly so to them.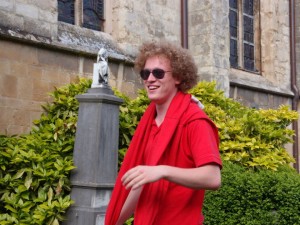 Anything you would like to tell our readers?
As part of the Chair Team and as representative to the National Youth Council, there is nothing I like to see better than active, engaged and involved AEGEEans. AEGEE offers endless possibilities, so go and use them. In addition, we are continuously improving our own organisation, as you can see in nearly every on- and offline discussion. Join this endless progression and improve yourself along the way! You might not change the world in one day, but every day you are trying to, you are changing yourself in a positive way.
Favourite book? Song? Movie? Colour?
I do not usually have favourites. My favourite song would be any song I can sing in the shower, in the pub, or on my bike or wherever, preferably songs with lyrics worth remembering. Colours give colours to your life! Naturally, I love the blue and yellow of Europe (and Sweden/Ukraine), but since that colour combination has kind of a cheap look to it, I prefer the colour of passion, life, fire and strength: red!
Written by Olga Volovyk, AEGEE-Kyiv