It is time for The AEGEEan's Choice Awards again! From March 10th until March 31st you can let us know who are your favorites in categories such as Best Video, Most Active Working Group, Most Impressive Roll Call and, of course, Most Creative Merchandise. For the last category, The AEGEEan has found five nominees, namely: AEGEE-Bratislava, AEGEE-Bergamo, AEGEE-Warszawa, AEGEE-Zaragoza and the Comité Directeur. Here you will get an insight into the inspiration behind it.
AEGEE-Europe's Popular Blue Hoodie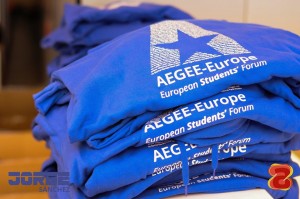 First of all, the popular AEGEE-Europe hoodie. The AEGEEan spoke with Pavel Zbornik from the Comité Directeur about the inspiration for it. "I wanted to show in one symbol the diversity of AEGEE in a way every AEGEE member will easy connect with – the names of the locals. I personally really like the A symbol and remembered the t-shirt of AEGEE-Krakow and put it all together." The sweatshirt was chosen due to the advantage of it being more visible and with AEGEE merchandising it is aimed to build an image of the organization, promote it and make it visible. "By wearing the AEGEE sweatshirt it shows I'm a member of AEGEE and I'm proud of it" Pavel says. Of course there is also the obvious fact that during an Autumn Agora sometimes it is cold and the hoodie can be a way to keep the participants warm. During Agora Zaragoza more than 100 hoodies were sold making it possible to see many blue spots from the stage during the plenary. The main challenge when designing, was the time pressure from other Comité Directeur members and trying to fit all locals into the shape which unfortunately was not achieved. However, the new visual identity made it all easier. "The Visual Identity makes designing much easier: You choose the color which you want to use and you can also choose an element, add text and you are done. I'm not the most skilled designer and with the Visual Identity I was able to make a simple design, which I believe looks good," Pavel says. It is still under discussion whether it will also be sold during Agora Patra as it will be quite warm. "If we decide in favor, the unsold hoodies will be shipped to Patra and we plan to offer pre-order by asking participants if they want to buy one, to see if we still have enough," Pavel concludes.
AEGEE-Bergamo's Flight Ticket's Promotion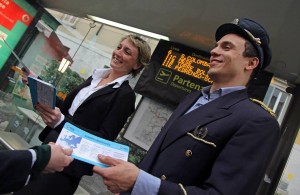 Also AEGEE-Bergamo's popular SU promotion flight tickets are the reason for the antenna being nominated for The AEGEEan's Choice Awards. Amongst many promotion methods, the antenna used articles in local newspapers, posts on social networks, leaflets and the mentioned flight tickets. First, AEGEE-Bergamo had a brainstorming session on the issue with the whole group and then Silvia Cannarozzi finalized the project. They were inspired by creative communication campaigns led by famous brands, such as these, and decided to transform a bus stop with a plastic panel so that it seemed like an airport departures indicator. The central bus stop would then become an "airport", so there was a need of stewards, pilots and flight tickets. However, in the first year the project had to be postponed due to the bad weather.
Then, last year they carried on the project by going outside the different buildings of the University of Bergamo dressed up as pilots and stewards, handing leaflets for the students, before going to the transformed bus stop in the city center continuing promotion with flyers and asking people where to go. In the end 20 members of the antenna applied last year for Summer Universities and AEGEE-Bergamo does not only work hard on gaining many members for the SUs but also have a rich planning for the whole year where they involve them with Erasmus activities and keep the whole antenna up to date about different AEGEE events. This year the very useful promotional tool will be used again: "That was a wonderful experience which allowed us to meet a lot of people, interested in travelling and getting information about AEGEE. Also, acting like stewards  and pilots was very funny for us. Last, but not least… we still have a lot of flyers left," the president of AEGEE-Bergamo Laura Iaciofano tells The AEGEEan.
AEGEE-Bratislava's t-shirt – single, taken, or… AEGEE?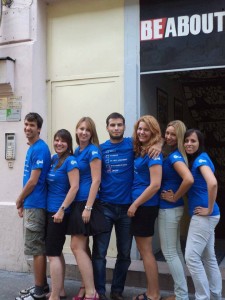 AEGEE-Bratislava is nominated for their creative t-shirt. The idea is from their current advisory board member, Andrej Choma , who came up with it during a social meeting. He was checking the status of relationship on Facebook but there wasn't the right option for him, until he realized that the missing piece was AEGEE. Then the actual t-shirts were designed by Andrej and the President, Lucia Gavulova. They chose the color according to Facebook's identity. There are already many T-shirts running across the whole Europe, but if you are interested in buying one, AEGEE-Bratislava still have some left in their office. Now AEGEE-Bratislava has a new creation because since February they have been wearing their new jumpers with "Partyslava" design, so far made just for board members, but the plan is to make them available to others as well. Besides that AEGEE-Bratislava is working on their new promo-video, which is meant for presentations at universities to recruit more (active) students into AEGEE and of course they are also concentrating a lot on organizing their Summer University.
AEGEE-Warszawa's Charity Calendar
AEGEE-Warszawa is nominated for their charity calendar. The idea came two years ago, when one of the working groups wanted to make a project which supports charities and integrate the members of the antennae at the same time making a calendar the perfect solution. The coordinators of AEGEE Charity Calendar 2014 were Justyna Michałek and Aneta Wróbel – extremely motivated fresh members of AEGEE-Warszawa. From the beginning they were putting a lot of effort into this project. They decided to support Warsaw Children Hospice by giving total income from the Calendars sale. The main aim was to do something good for Christmas, because it is a moment of the year when you have time to think about others and their needs and you want to share. The inauguration of the calendar took place during their AEGEE Christmas Eve, when people had the opportunity to support children from the Hospice. After the success in 2013 and 2014 the antenna will for sure repeat the project as it does not only support charity but also integrate the members. The idea is to increase the amount of calendars each year to make this activity more and more effective.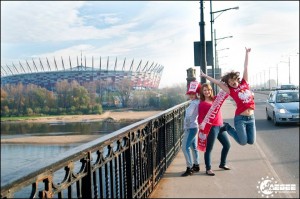 The locations are part of the most important or famous places in the capital city. "We wanted to present Warsaw and its charm. This is a city with very long and interesting historical and cultural background. On the one hand you can find here a beautiful old town, idyllic parks with lakes and fountains or take a romantic walk near the river bank. On the other, you can watch the panorama with skyscrapers, participate in an incredible nightlife, go to a snack bar which serves typical polish food 24/7, visit a modern art gallery and alternative cafes. With this calendar we wanted to show the spirit of the city and invite all the AEGEEans to visit us," Emilia Sadowska tells to The AEGEEan.
Currently there are a lot of ongoing projects in AEGEE-Warszawa. Starting from internal initiatives like Me, AEGEE & Europe project (connected with EU), a month course of workshops from soft skills, a sport project about healthy lifestyle, healthy food picnic, AEGEE-Warszawa birthday, Local Training Course, Scrabble Competition, recruitment, ending with international projects such as the Europe On Track event in April, EurStory Meeting in May, Summer University in July. All in all keeping the members busy.
AEGEE-Zaragoza's Cup full of AEGEE Spirits!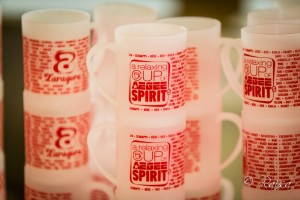 The decision to make a cup was by the Agora Zaragoza main team's way to continue with the idea of taking care of the environment and avoiding dangerous bottles inside Palacio de Congresos. Furthermore, it was an idea to make fundraising which is really necessary for an Agora. The AEGEEan spoke with Jonathan Del Castillo Gil about his design of the ZarAgora cup. He refers to himself as the slowest designer in the world and say that "I am like a crossbow… slow but precise". Even though it might not be the most complicated design, for Jonathan it was crazy since designing many things for the Agora at the same time. Working with a million different concepts, modifications, new concepts, new needs of the organization, and requests of the Public Relation Committee, all in all dealing with diversion and bureaucracy at the same time.
The final product was an idea he had had in mind for long time for merchandising. "In AEGEE I've designed about everything and a cup seemed like a beautiful challenge to me now that I collect them… In my phone I always have an app to write down ideas, make lists and this was one of the ideas that I have appointed since three years ago. I have always liked the European Night like the moment where each participant of an event show with pride their traditions. For me this is a previous moment since there you learn about other countries, what is important for them, their taste, their sound, their soul."
The design has two messages. It was inspired by the mayor of Madrid, who speaks horrible English and in an international presentation she said the phrase "A relaxing cup of Café con Leche" which became viral on the internet quickly. Jonathan adopted this idea to AEGEE and our famous AEGEE Spirit slogan, afterwards adding a "s" and then leading to the Relaxing cup of AEGEE Spirits. "Compiling the list was an authentic problem because there was not one single place on the internet with a complete list. So my great friend Serio Cristobal helped me from India and afterwards I added some that aren't official distilled liquors like champagne and beer. I also added a tribute to the famous shots of the bar where AEGEE-Zaragoza always celebrate their parties, Manolo la nuit: Cucaracha, Manolos, Kaláshnikov… I should publically apologize that due to all the stress I forgot to include the official drink of two places in Europe where I have many friends: Chacha of Georgia and Cider of Asturias.  ¡La Sidra de Asturias!". All the organizers had a million tasks to do so Jonathan decided to keep the design a secret until the end. "I like designing things and reveal them by surprise in the group of work in order to create a great environment. It was a lot of fun seeing the reactions of everybody," he says. 1050 cups were produced so there were enough for the participants and as gifts to the collaboration and promoters of the Agora. Now after 12 years in AEGEE thus making a tear fall from his eye, Jonathan says now it is time for the new generation of AEGEE-Zaragoza to take over and come up with innovate designs.
Written by Patricia Anthony, AEGEE-Zaragoza