From the 14th to the 18th of October, one of AEGEE's most important events, the Autumn Agora, will be held in Kyïv and as any seasoned AEGEE member knows: an Agora seldom comes alone. The main event is always accompanied by several pre-events that are organised  especially by dedicated antennae. This years participants had the opportunity to choose from five creative events in four different countries and a thematic conference that addresses the recent political and economic events in Ukraine.
Follow the AEGEEan on a quick tour through Eastern Europe's most interesting locations and best autumn events.

Our first stop is "AEGEE-Warszawa: Tear Down this Wall", where a group of lucky participants will be able to pledge freedom and transparency by tearing down past and present walls. As they find themselves travelling through time, the participants will discover the historic roots of Warszawa, full of charming places, Polish dreams and unique cultures. Back in present time, where modern youth spirit meets old traditions, the organisers are planning to take everybody on a stroll through old Warszawa in search of the most potent shot bars.


With no walls left to stop our journey, the next halt is with AEGEE-Lublin in a city that participants are definitely going to fall in love with. The organising team of "LUBLINove LOVE – Fall in Love in Lublin" is hoping to make everybody feel the magical atmosphere of the city where different people, cultures and religions mix into a unique style of living. A highlight of the event will be the Slavic night with traditional music, dances and a fiery bonfire that will warm up the coldest hearts.

Tea sceptics within AEGEE will definitely acquire a taste for the diverse drink after participating in AEGEE-Moskva's pre-event "Moscow Tea Time: A Hidden Part of the Russian Soul". In a traditional Russian tea ceremony with legends to spice things up, participants might awaken their hidden Russian soul within their bodies. AEGEE-Moscow will then introduce the attendants to traditional Russian culture, crazy spirits and other strong drinks in a city that never sleeps. The organisers are particularly proud to offer a workshop on lifehacks for surviving in a Russian train. A course that no AEGEE member should miss.


The event by AEGEE-Chișinău "Taste the Moldavian Hospitality" is going to be a definite treat for neglected taste buds. According to the organisers the participants will experience the tastiest pre-event of Autumn Agora Kyïv that will lead them on a discovery trail through Moldavian culinary culture by tasting delicious wine and traditional food such as Placinte. On a visit to the Orheiul Vechi monastery AEGEE members might trace back ancient civilisations.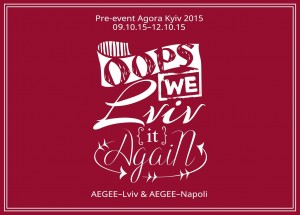 Before arriving in the heart of Ukraine, Kyïv, let us make a last stop in the soul of Ukraine with "Oops! We Lviv it again!" organised by AEGEE-Lviv. As the cultural capital of Ukraine, Lviv has a lot to offer its visitors. From the local musicians to its unique streets and cozy coffee houses, with this event the participants have a chance to experience the true spirit of the city and to get to know the Ukrainian culture through its language, cuisine and traditions.
For members who just cannot get enough, AEGEE-Kyïv has planned a special thematic conference on October the 13th, just a day before the start of Agora Kyïv 2015. "The #YoungUA Conference: Defending, Acting, Investing" marks the successful conclusion of the project "reBuilding Democracy" that was launched by AEGEE-Kyïv six months ago and encourages participants to dicuss the political, economic and social future of Ukraine within Europe. The event is divided into three panels with high-profile speakers discussing European values, economic investments and youth participation within transformation movements in Ukraine.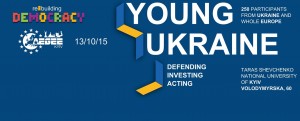 The conference aims to boost cooperation on youth policy matters between the Ukrainian and youth organisations by creating a memorandum at the end of the conference that will be sent to important stakeholders in Ukraine as well as abroad. According to main organisers Alla Resheten and Armenak Minasyants, the conference is a perfect opportunity for AEGEE members to get engaged in an explicit thematic context that has been missing during Agoras.
Which pre-event will you be visiting?
Written by Alev Özdemir, AEGEE-Frankfurt